Sharabi Shayari in Hindi and शराबी शायरी is here with Sharabi Shayari Images and HD Photos and Wallpapers to download and share on Whatsapp and Facebook to express your feelings. Earlier we posted some best Bewafa Shayari Images and Whatsapp Shayari Images for you on ShayariPapers.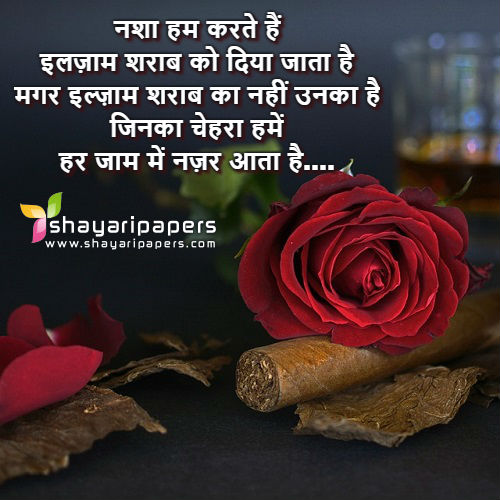 Top 10 Sharabi Shayari in Hindi | शराबी शायरी | Sharabi Shayari Images
(1)
Sharab Sareer Ko Khatam Krti Hai
Sharab Samaj Ko Khatam Krti Hai,
Aao Aaj Is Sharab Ko Khatam Krte Hain,
Ek Bottle Tum Khtam Kro, Ek Bottle Hum Khatam Krte Hai..
---
(2)
इतनी पीता हूँ कि मदहोश रहता हूँ,
सब कुछ समझता हूँ पर खामोश रहता हूँ,
जो लोग करते हैं मुझे गिराने की कोशिश,
मैं अक्सर उन्ही के साथ रहता हूँ।
---
(3)
Ishq-a-bewafai Ne Daal Di Hai Aadat Buri,
Main Bhi Sharif Hua Karta Tha Is Zamane Mein,
Pehle Din Shuru Karta Tha Masjid Mein Namaaz Se,
Ab Dhalti Hai Shaam Sharab Ke Sath Mehkhane Mein.
---
(4)
Madhhosh Hum Hardam Raha Karte Hain,
Aur Ilzaam Sharaab Ko Diya Karte Hain,
Kasoor Sharaab Ka Nahi Unka Hai Yaron,
Jinka Chehra Hum Har Jaam Mein Talaash Kiya Karte Hain.
---
(5)
Aashikon Ko Mohabbat Ke Alava Agar Kuchh Kaam Hota,
Toh Maikhane Jake Har Roz Yun Badnam Na Hota,
Mil Jaati Chahne Wali Usse Bhi Kahin Raah Mein Koi,
Agar Kadmon Mein Nasha Aur Hath Mein Jaam Na Hota.
Some More Sharabi Shayari in Hindi
(6)
Pee Ke Raat Ko Hum Unko Bhulane Lage,
Sharab Mein Gham Ko Milane Lage,
Daru Bhi Bewafa Nikali Yaron,
Nashe Mein To Woh Aur Bhi Yaad Aane Lage.
---
(7)
Raat Chup Hai Magar Chand Khamosh Nahi,
Kaise Kahoon Aaj Phir Hosh Nahi,
Is Tarah Dooba Hoon Teri Mohabbat Ki Gahrai Mein,
Hath Mein Jaam Hai Aur Peena Ka Hosh Nahi.
---
(8)
Rok Do Mere Janaze Ko Zaalimon,
Mujh Mein Jaan Aa Gayi Hai,
Peeche Mud Ke Dekho Kameeno,
Daru Ki Dukan Aa Gayi Hai…
Cheers !
---
(9)
Ek Jaaam Ulfat Ke Naam,
Ekk Jaam Mohabat Ke Naam.
Ek Jam Wafa K Naam,
Puri Botal Bewafa Ke Naam,
Aur Pura Theka Doston Ke Naam.
---
(10)
Teri Aankhon Ke Ye Jo Pyale Hain,
Meri Andheri Raaton Ke Ujale Hain,
Peeta Hoon Jaam Par Jaam Tere Naam Ka,
Hum To Sharabi Be-sharab Wale Hain..!!
---
(11)
Pee Hai Sharab Har Gali Har Dukan Se,
Ek Dosti Si Ho Gai Hai Sharab Ke Jaam Se,
Guzre Hain Hum Ishq Mein Kuchh Aise Mukam Se,
Ke Nafrat Si Ho Gai Hai Mohabbat Ke Naam Se.
---
(12)
Gham Is Kadar Mila Ki Ghabra Ke Pee Gaye,
Khushi Thodi Si Mili To Mila Ke Pee Gaye,
Yun To Naa Thi Janam Se Peene Ki Aadat,
Sharab Ko Tanha Dekha To Taras Khaa Ke Pee Gaye.
---
(13)
नशा हम करते हैं,
इलज़ाम शराब को दिया जाता है,
मगर इल्ज़ाम शराब का नहीं उनका है,
जिनका चेहरा हमें हर जाम में नज़र आता है!
Hope you enjoyed our this post Sharabi Shayari in Hindi | शराबी शायरी | Sharabi Shayari Images We will update this post on regular basis with some better Sharabi Shayari in Hindi. Please keep sharing our posts… Thanks!