New year status love messages 2019: Searching for some best new year status for your love, lover and girlfriend in hindi and english? Friends, we have collected some best happy new year status 2019 to wish naya saal to your love, lover or your girlfriend and we do hope that these romantic and lovely new year status collection will help you out to make your new year more memorable and happening. Earlier we had added our best collection in Happy New Year Shayari Hindi post.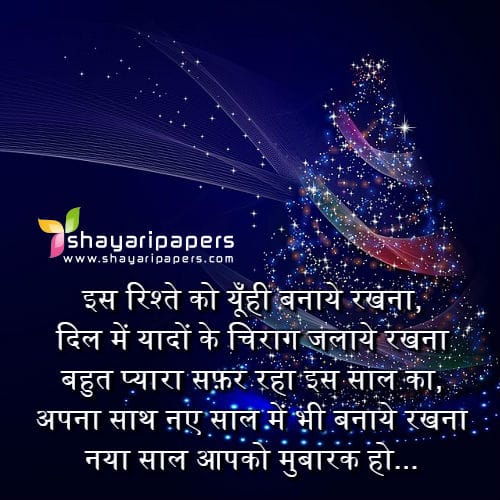 नया साल आये बनके उजाले, खुल जाये आपकी किस्मत के ताले
हमेशा आप पर रहे मेहेरबान घरवाले, चाँद तारे भी आप पर ही रोशनी डाले
Happy New Year
आपके सारे गम खुशियों में तोल दूँ, अपने सारे राज़ आपके सामने खोल दूँ
कोई मुझसे पहले न बोल दे, इसलिए सोचा क्यों न आज ही आपको हैप्पी न्यू इयर बोल दूँ
ऐ दोस्त तूने मुझे बहुत प्यार दिया
हमारा बहुत ख्याल रखा
लेकिन अब जुदा होने का वक़्त आ गया है
सिर्फ और सिर्फ तुम्हारा 2018
New year status love messages in Hindi
पग – पग में हो फूलों का सामना
न हो कभी काँटों का सामना
नव वर्ष की शुभकामनायें
इस रिश्ते को यूँही बनाये रखना, दिल में यादों के चिराग जलाये रखना
बहुत प्यारा सफ़र रहा इस साल का, अपना साथ नए साल में भी बनाये रखना
नया साल आपको मुबारक हो
आ गले लग जा मेरे यार, दे दूँ जादू की झप्पी दो चार
ऐसे ही कट जाये ज़िन्दगी विदाउट एनी रिस्क
इस उम्मीद के साथ आपको नव वर्ष की शुभकामनायें
सुख-शान्ति एवं समृद्धि की मंगलकामनाओं के साथ आप एवं आपके परिजनों को नव वर्ष की हार्दिक शुभकामनायें
गुल ने गुलशन से गुलफाम भेजा है, सितारों ने आसमान से सलाम भेजा है
मुबारक हो आपको नया साल, हमने अडवांस में यह पैगाम भेजा है
नव वर्ष की शुभकामनायें
आपकी आँखों में सजे है जो भी सपने
और दिल में छुपी है जो भी अभिलाषाएं
यह नया वर्ष उन्हें सच कर जाए
आप के लिए यही है हमारी शुभकामनायें
नव वर्ष की पावन बेला में, है यही शुभ सन्देश
हर दिन आये आप के जीवन में, लेकर खुशियाँ विशेष
नव वर्ष की हार्दिक शुभकामनायें
New year status love messages in English
Lets welcome the year which is fresh and new
Let's cherish each moment it beholds
Lets celebrate this blissful New year
May this new year give you to live each day with zest to daily grow and try to be your highest and your best
Happy New Year
Lovely as a crystal stream, Tranquil as a gentle breeze, Bright as blossoms in the sun – Tomorrows possibilities! May u have a HAPPY NEW YEAR
Years come and go. This year, I specially wish 4 u a double dose of health & happiness-topped with loads of good fortune. Have a gr8 year ahead, Happy New Year!
Everybody wants some1 special, some1 nice, some1 loving, some1 honest, some1 cute, some1 perfect & some attractive each day of the year! But y always ME Yaar!
May God bless you and keep you safe, not only today but throughout your life. May the year to follow be amongst the best you ever spent.
Happy New Year!
May the spirit of this holiday season fill your heart with love, peace and serenity!
Wishing you many wishes for the New Year!
Good message to a Good Person, from a Good Person for a Good reason, at a Good time on a Good Day, in a Good Month and a Good Year!
Wish you a very Good New Year full of Goodies!
Some people have nice eyes
Most have nice smiles and
Some have nice faces
But you have all of them topped with a nice Heart. Wish you a Happy New Year from the bottom of my heart
May all your troubles last as long as your New Year's resolutions.
Wish you a trouble free New Year!