Mausam Shayari in Hindi : Hello friends, are you looking for best romantic or sad mausam shayari then check out our Romantic mausam shayari collection in Hindi to express your feelings. You may also download wallpaper, image and photo on Whatsapp and Facebook. So friends if you have love, girlfriend, boyfreind and friends then share these suhana mausam shayari with them. We do hope you will love these mousam ki shayari.
Mausam Shayari in Hindi with Images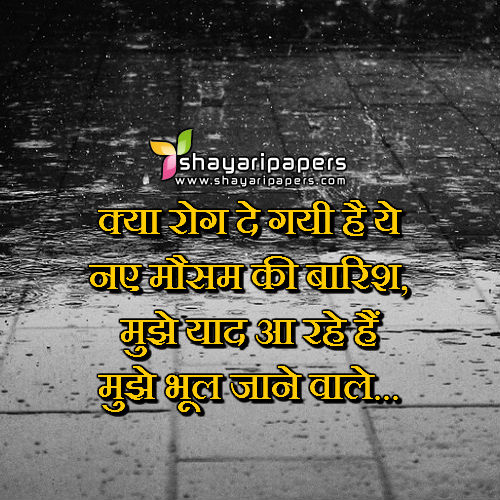 2 Line Romantic Mausam Shayari in English Font
Tapish Aur Barh Gayi Inn Chand Boondo Ke Baad,
Kaale Syaah Baadal Ne Bhi Yun Hi Behlaya Mujhe.
Heart Touching Mausam Shayari on Life
Jis Ke Aane Se Mere Zakhm Bhara Karte The,
Ab Wo Mausam Mere Zakhmo Ko Haraa Karte Hain.
2 Line Mausam Shayari in English Language
Majboorian Odh Ke Nikalata Hu
Ghar Se Aaj Kal,
Varna Shauk To Aaj Bhi Hai
Baariso Me Bheegne Ka !
Suhana Baarish Mausam Shayari for Love & GF
Dard Me Koi Mousam Pyara Nahi Hota,
Dil Ho Pyasa To Pani Se Gujara Nahi Hota. Koi Dekhe To Humari Bebasi,
Hum Sabhi K Ho Jate Hain Par Koi Humara Nahi Hota
---
Read More : Romantic Shayari in Hindi
Read More : Izhaar Shayari in Hindi
---
4 Line Mousam Shayari for Facebook
Kab Tak Door Bhagoge Ek Din To Baat Honi Hai Khushbu Ki Bhawron Se Mulakat To Honi Hai Tadapkar Kar Yun Na Roko Apni Mohabbat Ko Pyaar Ke Mausam Ki Barsat To Honi Hai
Two Line Mausam Poetry for Bf & Gf
Mausam Ko Mausam Ke Baharon Ne Luta, Kashti Ko Saahil Ke Kinaron Ne Luta.
Tum To Darr Gaye Ek Hi Kasam Se, Humein To Tumhari Kasam De Kar Hazaron Ne Luta
Two Line Sad Mausam Shayari for Love
Mausam-E-Abr Ho Subuu Bhii Ho Gul Ho Gulshan Ho Aur Tuu Bhii Ho Kab Tak Aaiine Kaa Ye Husn-E-Qubuul Muunh Teraa Is Taraf Kabhuu Bhii Ho Ho Jo Teraa Saa Rang Gul Kaa Hai Dekhen Ham Tab Jab Aisii Buu Bhii Ho Hai Garz Ishq Sirf Hii Lekin Shart Ye Hai Ke Justujuu Bhii Ho Sarkashii Gul Kii Sar Nahiin.
Sad Mausam Shayari in Hindi for Facebook
Mausam Hai Barish Ka Aur Yaad Tumhari Aati Hai, Barish Ke Har Qatre Se Awaz Tumhari Aati Hai. Badal Jab Garajte Hain, Dil Ki Dharkan Badh Jati Hai, Dil Ki Har Ek Dharkan Se Awaz Tumhari Aati Hai.
Jab Tez Hawayein Chalti Hai To Jaan Hamari Jati Hai, Mausam Hai Barish Ka Aur Yaad Tumhari Aati Hai
Sad Mousam Shayari for Girlfriend
Jhalakti Hay, Tasveer Tari Barish Ki Bondoon Main… Aj Phir Bheeg Baitha, Tujhe Paane Ki Chahat Mein…!!!
Sad Shayari for Mausam in Hindi Font
सतरंगी अरमानों वाले,
सपने दिल में पलते हैं,
आशा और निराशा की,
धुन में रोज मचलते हैं,
बरस-बरस के सावन सोंचे,
प्यास मिटाई दुनिया की,
वो क्या जाने दीवाने तो
सावन में ही जलते है।
2 Line Mausam Shayari in Hindi
कुछ तो हवा भी सर्द थी
कुछ था तेरा ख़याल भी,
दिल को ख़ुशी के साथ साथ
होता रहा मलाल भी।