Matlabi Rishte Shayari and मतलबी रिश्ते पर शायरी in hindi with Matlabi Rishte Shayari Images and HD Photo to share and download. In this series earlier we posted some best Rishta Shayari Images on our site.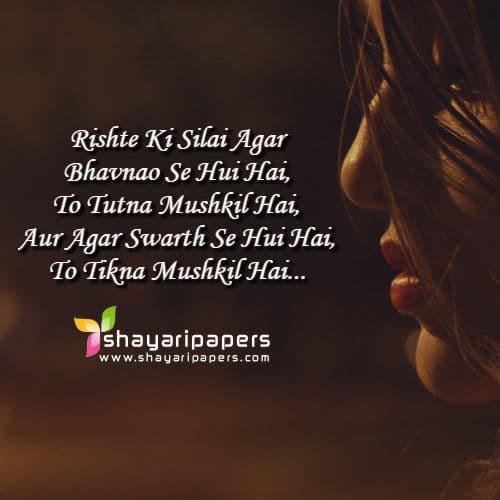 Matlabi Rishte Shayari | मतलबी रिश्ते पर शायरी | Matlabi Rishte Shayari Images
Rishte Ki Silai
Agar Bhavnao Se Hui Hai, To Tutna Mushkil Hai,
Aur Agar Swarth Se Hui Hai, To Tikna Mushkil Hai…
——-
Mashoor Hona Lekin Kabhi Magroor Mat Hona,
Chu Lo Kadam Kaamyabi Ke Lekin Apno Se Kabhi Door Mat Hona,
Zindagi Mein Khoob Mil Jaayegi Daulat Aur Shohrat Magar,
Apne He Aakhir Apne Hote Hain Ye Baat Kabhi Bhool Na Jaana…
——-
Jo Koi Samajh Na Sake Wo Baat Hain Hum,
Jo Dhal Ke Nahi Subah Laaye Wo Raat Hain Hum,
Chhod Dete Hain Log Rishte Banakar,
Jo Kabhi Na Chute Wo Sath Hain Hum…
——-
Rishtey Kaanch Ki Tarah Hote Hain,
Tut Jaaye To Chubhte Hain,
Inhe Sambhalkar Hatheli Par Sajana,
Kyunki Inhe Tutne Mein Ek Pal,
Aur Banane Mein Barso Lag Jaate Hain…
——-
Kuch Meethe Pal Yaad Aate Hain, Palkon Par Aasu Chhod Jate Hain,
Kal Koi Aur Mil Jaaye To Humein Na Bhulna,
Kyunki Kuch Rishte Umra Bhar Kaam Aate Hain…
——-
Door Ho Jaane Se Rishte Nahi Tut Te, Na He Sirf Paas Rehne Se Judte Hain,
Ye To Dilo Ke Bandhan Hai Isliye,
Hum Tumhe Aur Tum Humein Nahi Bhulte…
---
Hope you will like these Matlabi Rishte Shayari | मतलबी रिश्ते पर शायरी | Matlabi Rishte Shayari Images, If you like then share with your friends on Whatsapp, Facebook and other social network and share your feelings.