Happy Birthday Shayari in Hindi is very popular to those who are looking to wish Happy Birthday to their Sister, Brother, Wife, Girlfriend and Boyfriend. So today we are going to share some best Happy Birthday Shayari wishes with wallpapers, images and photos to share on whatsapp and facebook with your love ones. You will also get Funny Birthday Shayari, Happy Birthday Shayari Wishes, Birthday Shayari Status for Whatsapp to express your feelings.
Happy Birthday Shayari Photo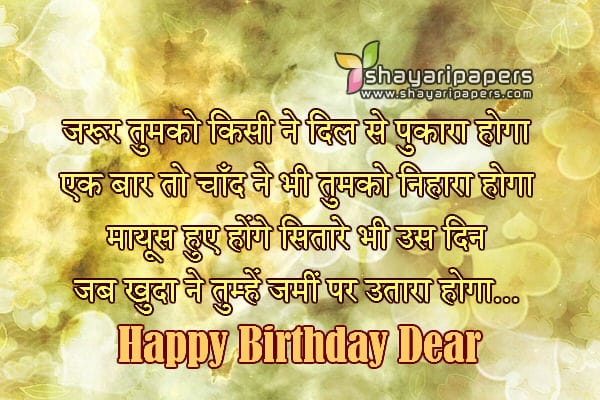 Happy Birthday Shayari in Hindi Font
आप वो फूल हो जो गुलशन में नहीं खिलते
पर जिस पर आसमान के फ़रिश्ते भी फक्र हैं करते
आप की जिंदगी हद्द से ज्यादा कीमती है
जन्मदिन आप हमेशा मनाएं यूँ ही हँसते हँसते…
जन्मदिन मुबारक
---
Janmadin Shayari For Girlfriend
Janm Din Ke Yeh Khaas Lamhe Mubarak
Aankho Mein Base Naye Khwab Mubarak
Zindgi Jo Lekar Aayi Hai Aapke Liye Aaj
Woh Tamaam Khushiyo Ki Haseen Saugat Mubarak….
Happy Birthday!
---
Birthday Shayari in Hindi
तोहफा मैं तुझे आज मेरा दिल ही देता हूँ
ये हसीन मोका गवाना नहीं चाहता हूँ
अपने दिल की बात तुम्हारे सामने बतलाता हूँ
और तुम्हारे जन्म दिन की शुभ कामनाये देता हूँ….
---
Birthday Shayari in English Font
Main Likh Du Tumhari Umar Chand Sitaaro Se
Janamdin Manau Main Phoolo Se Baharo Se
Har Ek Khoobsurti Duniya Se Main Lekar Aau
Mehfil Ye Sajaau Main Har Haseen Najaro Se….
Happy Birthday My Dear
---
Birthday Shayari For Girlfriend or Boyfriend
आसमान की बुलंदियों पर नाम हो आपका
चाँद की धरती पर मुकाम हो आपका
हम तो रहते है छोटी सी दुनिया में
पर खुदा करे सारा जहाँ हो आपका…
---
Janmadin Mubarak Shayari for Lover
Dua Mile Bando Se Khushiyan Mile Jag Se
Sath Mile Apno Se Rehmat Mile Rab Se
Zindagi Me Aap Ko Be Panah Pyar Mile
Kush Rahe Aap Duniya Mein Ziyda Sub Se….
---
Birthday Shayari Hindi For Sister
खुदा बुरी नज़र से बचाए आप को
चाँद सितारों से सजाए आप को
गम क्या होता है ये आप भूल ही जाओ
खुदा ज़िन्दगी मे इतना हँसाए आप को….
---
Happy Birthday Poetry
Meri Dua Hai K Khush Raho Tum
Mile Na Koi Ghum Jahan Bhi Raho Tum
Samandar Ki Tarah Dil Hai Gehra Tera
Khushioun Sa Bhara Rahe Daman Tera
Tum Jo Kaho Woh Har Khawahish Poori Ho Tumhari
Khuda Se Bus Yahi Dua Hai Hamari
Tohfa Kya Doon Tumhain Duaoun K Siwa
K Khuda Rahe Tum Se Raazi Sadaa….
---
Some More Happy Birthday Shayari in Hindi
उगता हुआ सूरज दुआ दे आपको
खिलता हुआ फूल खुशबु दे आपको
हम तो कुछ देने के काबिल नहीं है
देने वाला हज़ार खुशिया दे आपको….
---
Woh Ghamon Ko Mujhse Milane Ko Mila Tha
Yaar Mere Dard Badhanae Ko Mila Tha
Main Dosh Bhala Kya Usko Du Toh Kaise Du
Woh Zindagi Se Nijaat Dilane Ko Mila Tha….
---
तुम्हारी इस अदा पे क्या जवाब दूँ
अपने यार को क्या तोहफा दूँ
कोई अच्छा सा फूल होता तो मंगवाता माली से
जो खुद गुलाब है उसको क्या गुलाब दूँ….
---
Yahi Dua Karta Hu Khuda Se
Aapki Zindigi Mein Koi Gam Na Ho
Janamdin Per Mile Hazaro Khusiyan
Chahe Unme Shaamil Hum Na Ho….
Happy Birthday
---
हमारी तो दुआ है कोई गिला नहीं
वो गुलाब जो आज तक खिला नहीं
आज के दिन आपको वो सब कुछ मिले
जो आज तक किसी को कभी मिला नहीं….
---
Phulon Ne Amrit Ka Jaam Bheja Hai
Taaron Ne Gagan Se Salam Bheja Hai
Khushiyon Bhari Ho Jindgi Aapki
Yahe Dil Se Humne Paigam Bheja Hai….
---
Khwahisho Ke Samandar Ke Sab Moti Tere Naseeb Ho
Tere Chahne Wale Humsafar Tere Hardam Kareeb Ho
Kuch Yun Utre Tere Liye Rehmato Ka Mausam
Ki Teri Har Dua Har Khwahish Kabool Ho
Janamdin Ki Badhai