Good Night Shayari Images and गुड नाईट शायरी इमेजेज in hindi with HD Photos and Wallpapers with Pictures to download all these Good Night Pics to share on Whatsapp and Facebook. In this post you will find some best Good Night Shayari in Hindi for Girlfriend and Good Night Shayari with Photo to wish Good Night. Earlier we had posted some best Intezaar Shayari Images and Izhaar Shayari Images.
Good Night Shayari Images | गुड नाईट शायरी इमेजेज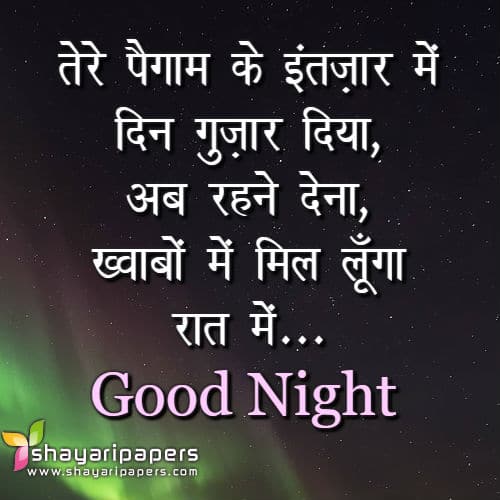 Tere Paigam Ke Intezaar Mein
Din Guzaar Diya..
Ab Rehne Dena,
Khwabon Mein Mil Lunga
Good Night 😇😇😇
---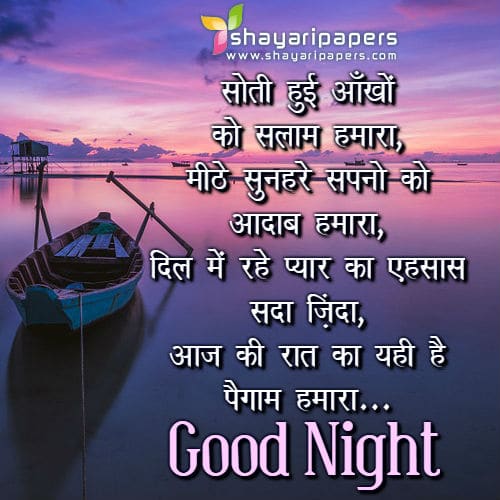 Soti Hui Aankhon Ko Salam Hamara,
Meethe Sunhare Sapno Ko Aadab Hamara,
Dil Mein Rahe Pyar Ka Ehsaas Sada Zinda,
Aaj Ki Raat Ka Yahi Hai Paigam Hamara…
Shubh Ratri Good Night 😌😌😌😇
---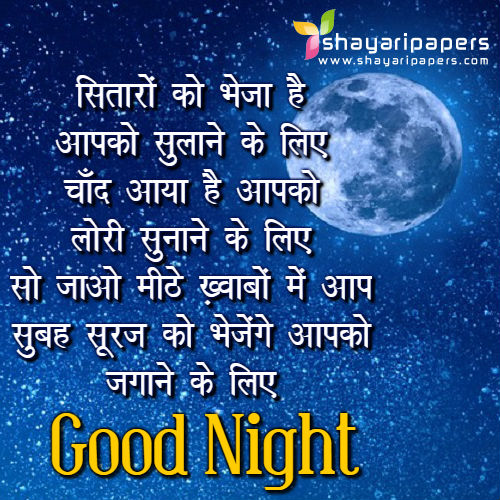 Sitaron Ko Bheja Hai Aapko Sulane Ke Liye
Chand Aaya Hai Aapko Lori Sunane Ke Liye
So Jaao Meethe Khwabon Mein Aap
Subah Sooraj Ko Bhejeinge Aapko Jangane Ke Liye
Good Night 😘😘😘
---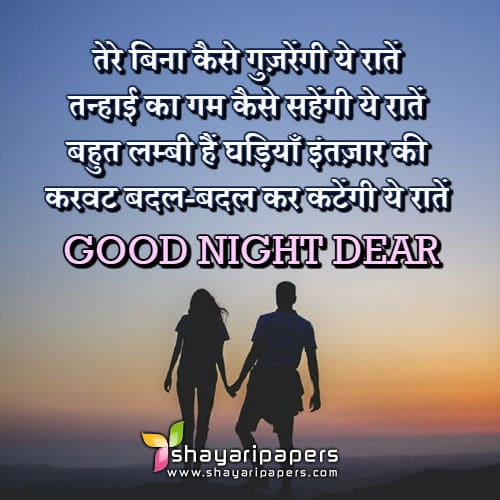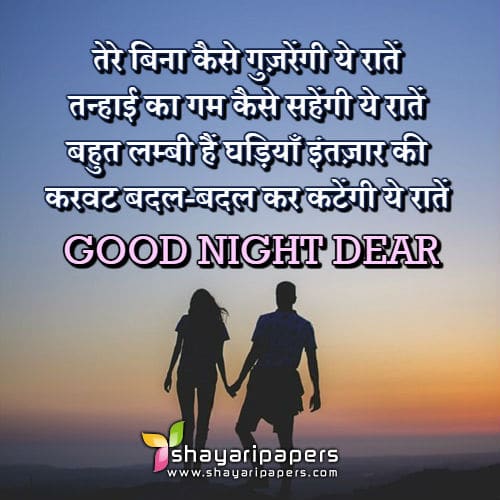 Tere Bina Kaise Guzregi Ye Raatein
Tanhai Ka Gum Kaise Sahegi Ye Raatein
Bahut Lambi Hain Ghadiyan Intezaar Ki
Karwat Badal Badal Kar Kateingi Ye Raatein
Good Night Dear
---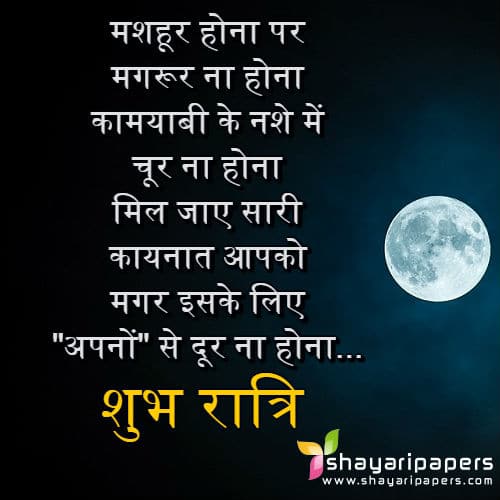 Mashoor Hona Par Magroor Na Hona
Kamyabi Ke Nashe Main Chur Na Hona
Mil Jaye Sari Kaynat Aapko
Magar Iske Liye Kabhi Apnon Se Door Na Hona….
Good Night
---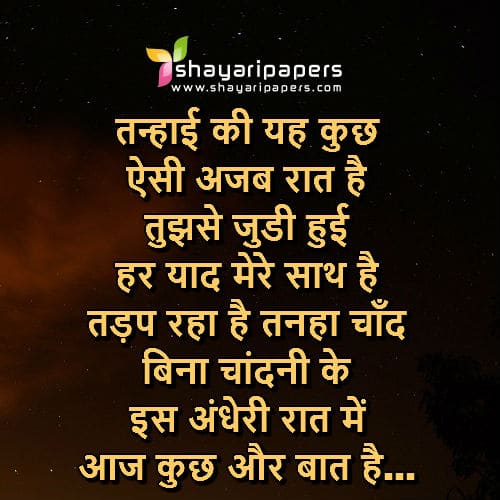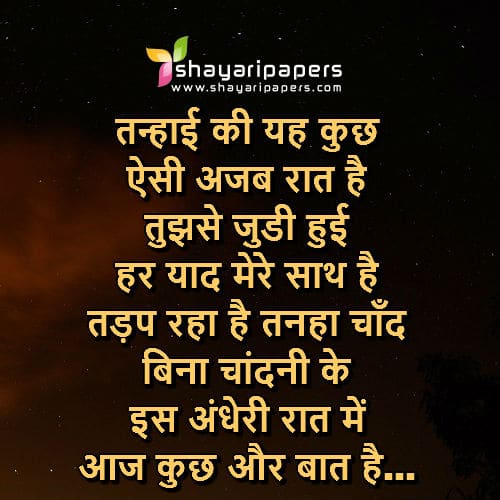 Tanhai Ki Ye Kuch Aisi Ajab Raat Hai
Tujhse Judi Hui Har Yaad Mere Sath Hai
Tadap Raha Hai Tanha Chand Bina Chandni Ke
Iss Andheri Raat Mein Aaj Kuch Aur Baat Hai….
---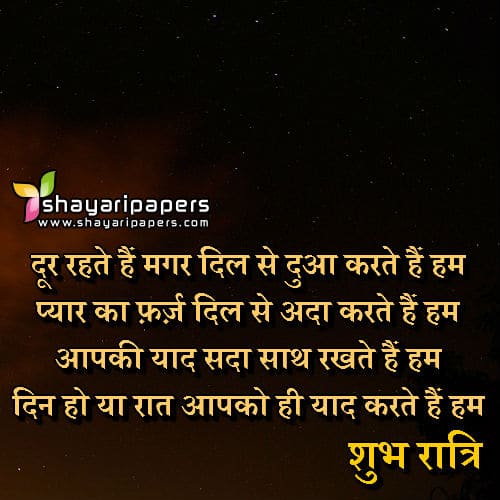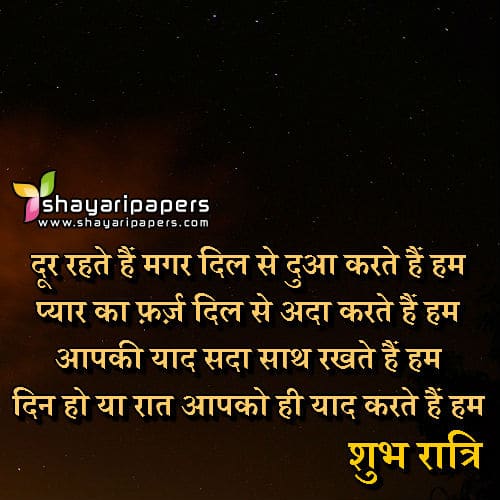 Door Rahtey Hain Magar Dil Se Dua Karte Hain Hum
Pyar Ka Farz Dil Se Ada Karte Hain Hum
Aapki Yaad Sada Sath Rakhte Hain Hum
Din Ho Ya Raat Aapko He Yaad Karte Hain Hum
Shubh Ratri
---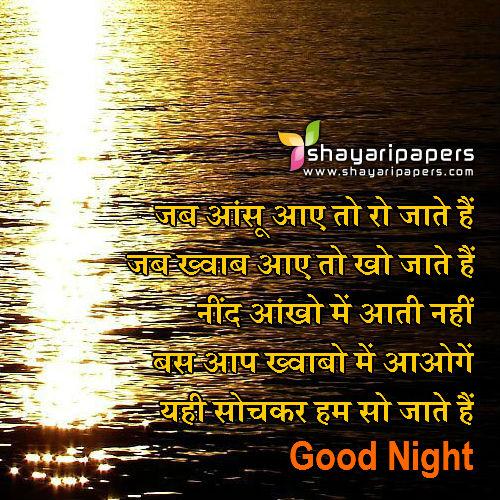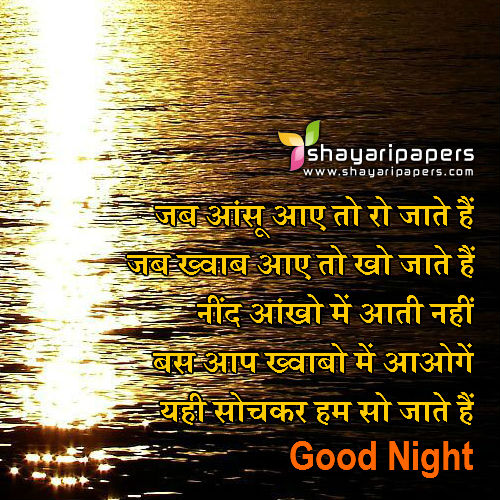 Jab Aansu Aaye To Ro Jaate Hain
Jab Khwab Aaye To Kho Jaate Hain
Neend Aankhon Mein Aati Nahi
Bus Aap Khwabon Mein Aaoge
Ye Sochkar Hum So Jaate Hain…
Good Night
---
Latest Good Night Image with Shayari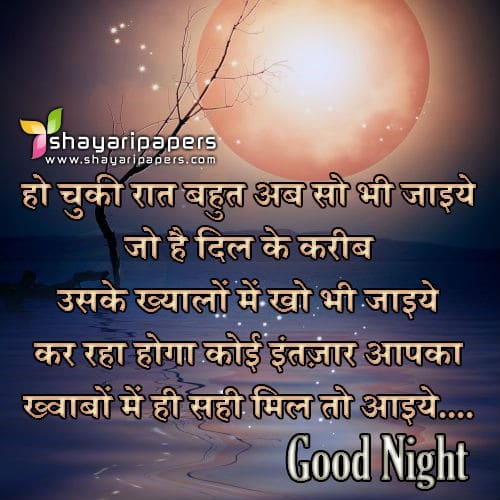 Ho Chuki Raat Bahut Ab So Bhi Jaayiye
Jo Hai Dil Ke Kareeb Uske Khayalon Mein Kho Bhi Jaayiye
Kar Raha Hoga Koi Intezaar Aapka
Khwabo Mein He Sahi Mil To Aayiye
Good Night
---

Hum Aapko Kabhi Khone Nahi Deinge
Juda Hona Chaho To Bhi Hone Nahi Deinge
Chandni Raato Mein Jab Aaayegi Meri Yaad
Meri Yaad Ke Wo Pal Aapko Sone Nahi Deinge…
Good Night
---

Soti Hui Aakhon Ko Salam Hamara
Meethey Sunhare Sapno Ko Aadab Hamara
Dil Mein Rahey Pyar Ka Ehsaas Sada Zinda
Aaj Ki Raat Ka Yahi Hai Paigam Hamara…
---

Kitni Jaldi Ye Shaam Aa Gayi
Good Night Kehne Ki Baat Yaad Aa Gayi
Hum To Baithe They Sitaro Ki Mehfil Mein
Chand Ko Dekho To Aapki Yaad Aa Gayi…
---

Chand Ko Baithakar Pahro Par
Taaro Ko Diya Nigrani Ka Kaam
Ek Raat Suhani Aapke Liye
Ek Sunehra Sapna Aapki Aakhon Ke Naam
---
Good Night Images Hindi Shayari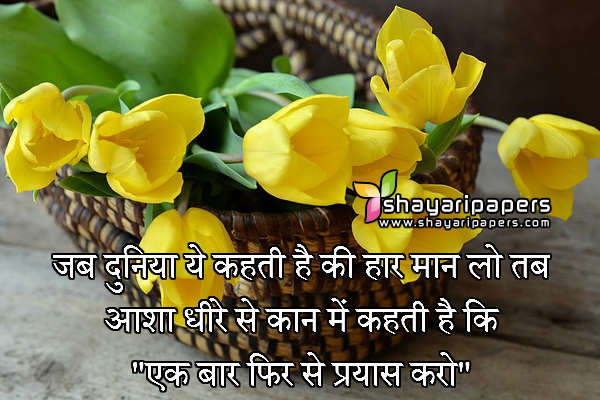 Jab Duniya Ye Kehti Hai Ki Haar Maan Lo Tab Aasha Dheere Se Kaan Mein Kehti Hai Ki…
"Ek Baar Phir Se Prayas Karo"
---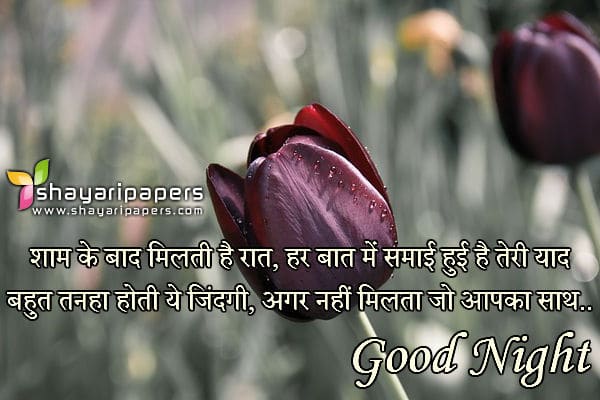 Shaam Ke Baad Kitni Hai Raat,
Har Baat Mein Samai Hui Hai Teri Yaad,
Bahut Tanha Hoti Hai Zindagi,
Agar Nahi Milta Jo Hai Aapka Sath…
Good Night
---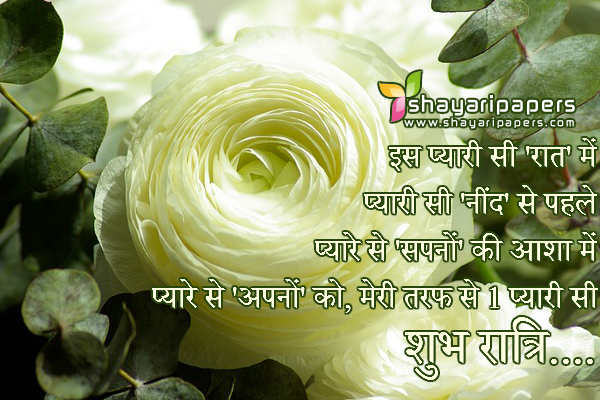 Is Pyari Si "RAAT" Mein
Pyari Si "NEEND" Se Pehle
Pyare Se "SAPNO" Ki Aasha Mein
Pyare Se "APNO" Ko, Meri Taraf Se 1 Pyari Si
"SHUBH RATRI"
---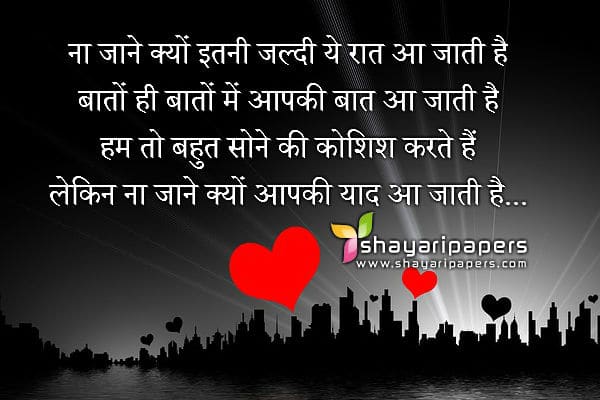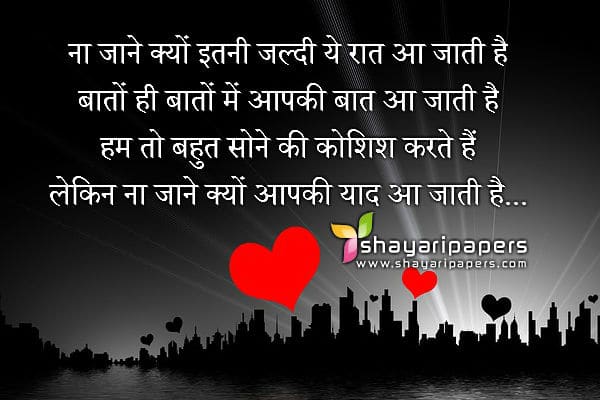 Na Jaane Itni Jaldi Ye Raat Aa Jaati Hai
Baaton He Baaton Mein Aapki Baat Aa Jaati hai
Hum To Bahut Sone Ki Koshish Karte Hain
Lekin Na Jaane Kyun Aapki Yaad Aa Jaati Hai
---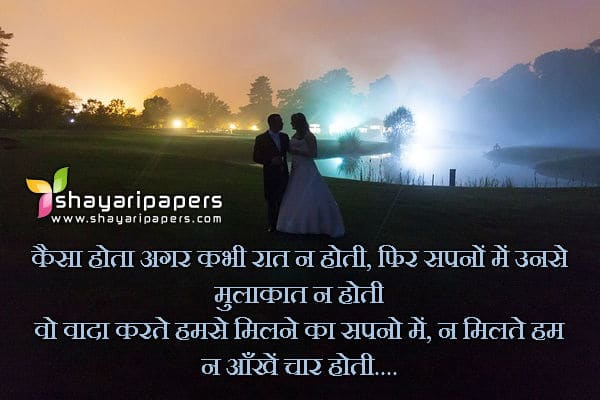 Kaisa Hota Agar Kabhi Raat Na Hoti,
Phir Sapno Mein Unse Mulakaat Na Hoti,
Wo Wada Karte Humse Milne Ka Sapno Mein,
Na Milte Hum Na Aakhein Chaar Hoti…
Goodnight Sweetheart
---
Good Night Shayari Image HD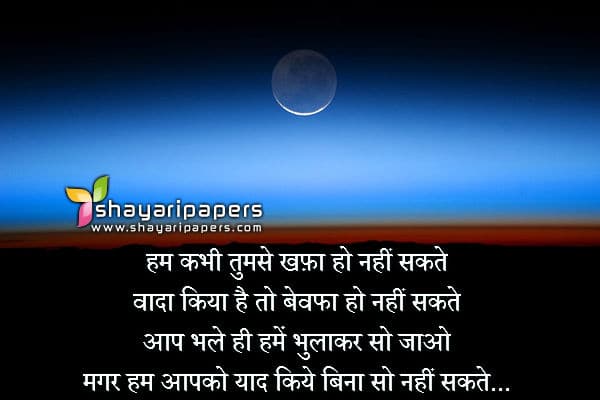 Hum Kabhi Tumse Khafa Ho Nahi Sakte
Wada Kiya hai To Bewafa Ho Nahi Sakte
Aap Bhale He Humein Bhulakar So Jaao
Magar Hum Aapko Yaad
Kiye Bina So Nahi Sakte..
---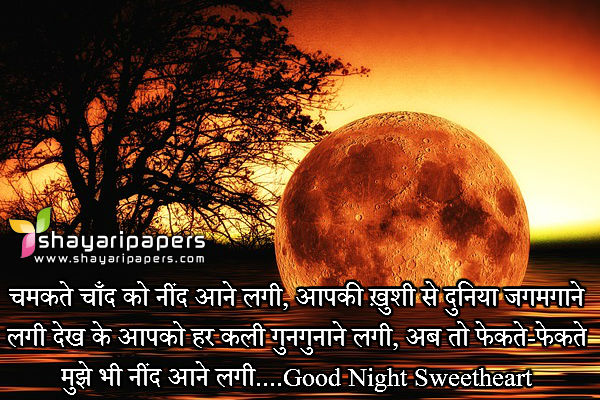 Chamakte Chand Ko Neend Aane Lagi,
Aapki Khushi Se Duniya Jagmagane Lagi,
Dekh Ke Aapko Har Kali Gungunane Lagi,
Ab To Faikte Faikte Mujhe Bhi Neend Aane Lagi
Good Night
---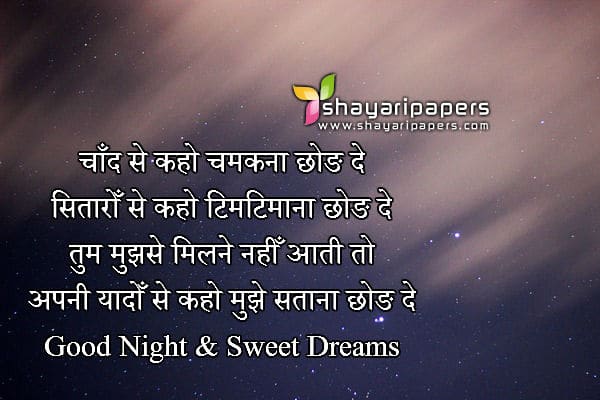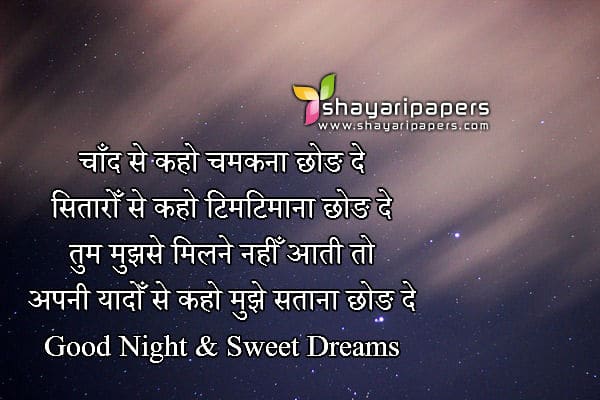 Chand Se Kaho Chamakna Chhod De
Sitaro Se Kaho TimTimana Chhod De
Tum Mujhse Milne Nahi Aati To
Apni Yaadon Se Kaho Mujhe Satana Chhod De…
Good Night & Sweet Dreams
---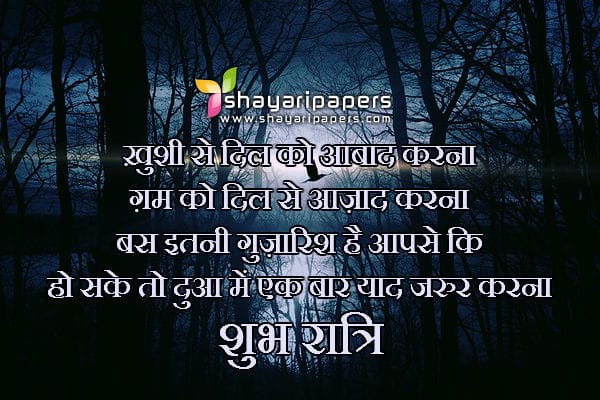 Khushi Se Dil Ko Aabad Karna
Gam Ko Dil Se Aazad Karna
Bus Itni Gujarish Hai Aapse Ki
Ho Sake To Dua Mein Ek Baar Yaad Jarur Karna
---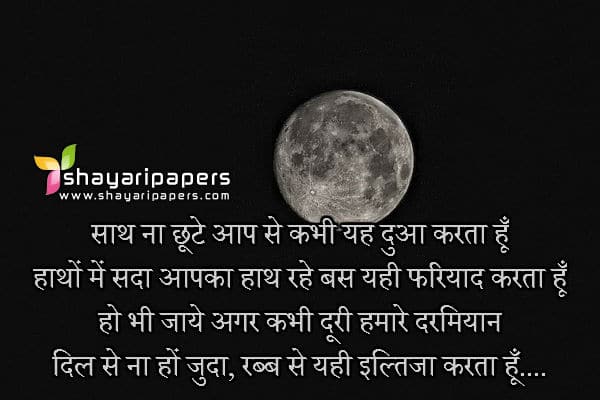 Saath Na Chutey Aap Se Kabhi Ye Dua Karta Hu
Haatho Mein Sada Aapka Hath Rahey Bus Yahi Fariyad Karta Hu
Ho Bhi Jaaye Agar Kabhi Doori Hamare Darmiyan
Dil Se Na Ho Juda Rab Se Yahi Iltiza Karta Hu
---
Good Night Hindi Shayari Image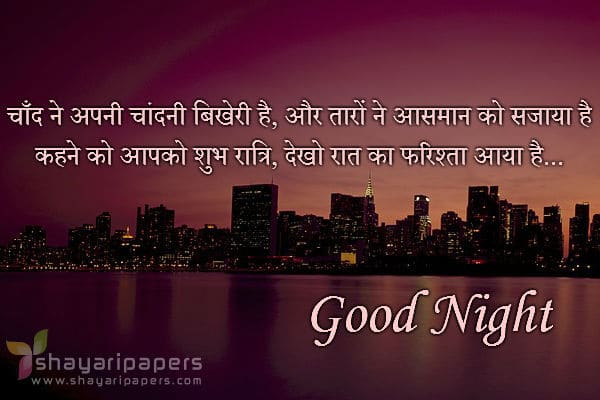 Chand Ne Apni Chandni Bikheri Hai, Aur Taaro Ne Aasman Ko Sajaya Hai
Kehne Ko Aapko Shubh Ratri, Dekho Raat Ka Farishta Aaya Hai… Good Night
---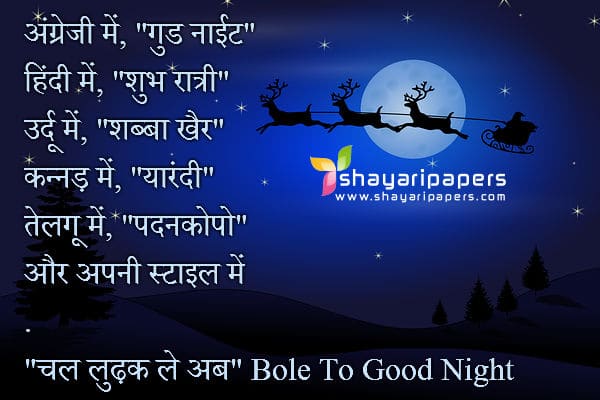 English Mein, Good Night
Hindi Mein, Shubh Ratri
Urdu Mein, Shabba Khair
Kannad Mein, Yarandi
Telugu Mein, Padankoppo
Aur Apni Style Mein
.
.
.
Chal Ludhak Le Ab Bole To Gud Night
---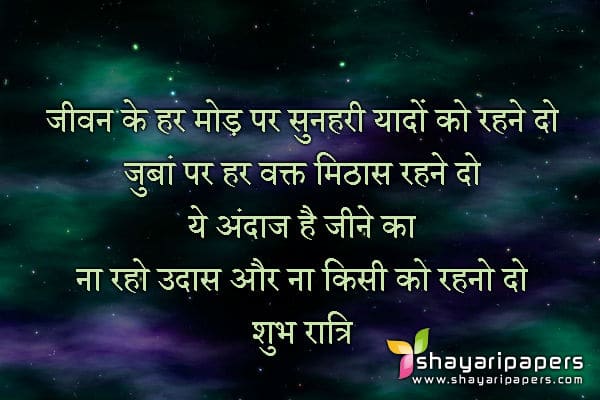 Jeevan Ke Har Mod Par Sunahri Yaado Ko Rehne Do
Jubaan Par Har Waqt Mithas Rehne Do
Ye Andaaz Hai Jeene Ka
Na Raho Udaas Aur Na Kisi Ko Rehne Do
Good Night
---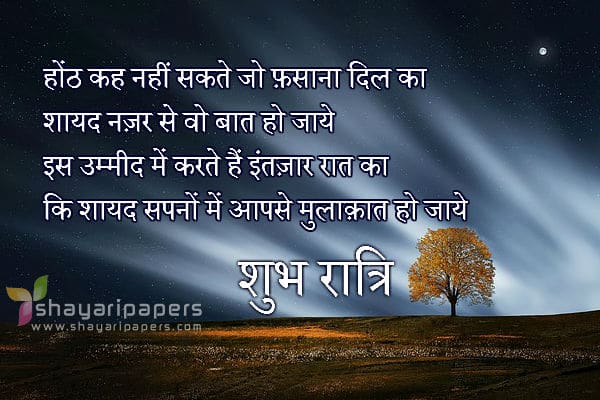 Hoth Kah Nahi Sakte Jo Fasana Dil Ka
Shayad Nazar Se Wo Baat Ho Jaaye
Iss Ummeed Mein Karte Hain Intezaar Raat Ka
Ki Shayad Sapno Mein Aapse Mulakat Ho Jaaye
Shubh Ratri
---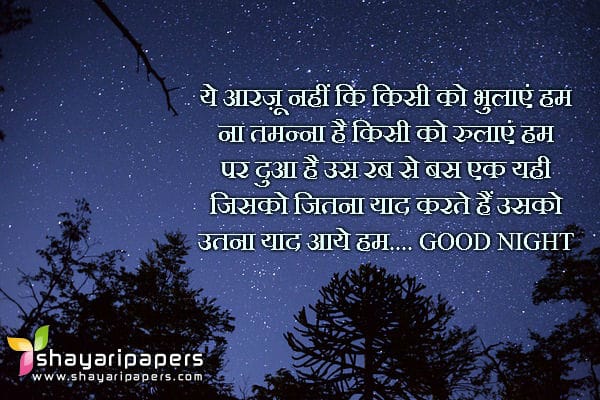 Ye Aarzu Nahi Ki Kisi Ko Bhulayein Hum
Na Tamanna Hai Kisi Ko Rulayein Hum
Par Dua Hai Uss Rab Se Bus Ek Yahi
Jisko Jitna Yaad Karte Hain Unko
Utna Yaad Aaye Hum… Good Night
---
Latest Good Night Shayari Photos Download

Raat Ka Chand Tumhe Salam Karein
Pariyo Ki Aawaz Tumhe Aadab Karein
Saari Duniya Ko Khush Rakhne Wala Wo Rab,
Har Pal Tumhari Khushiyo Ka Khayal Karein
Good Night
---

Iss Kadar Hum Aapki Mohabbat Mein Kho Gaye
Ki Ek Nazar Dekha Aur Bus Unhi Ke Ho Gaye
Aankh Khuli To Andhera Tha, Dekha Ek Sapna Tha
Aankh Band Kar Hum Phir Aapke Sapno Mein Kho Gaye…
---

Dukhon Ko Keh Do Alvida
Khushiyo Ka Tum Kar Lo Sath
Chand Ki Ye Chandni Aur Taro Ki Baraat
Lekar Meethe Sapne Sang Apne Aa Gayi Hai Ye Raat
Good Night
---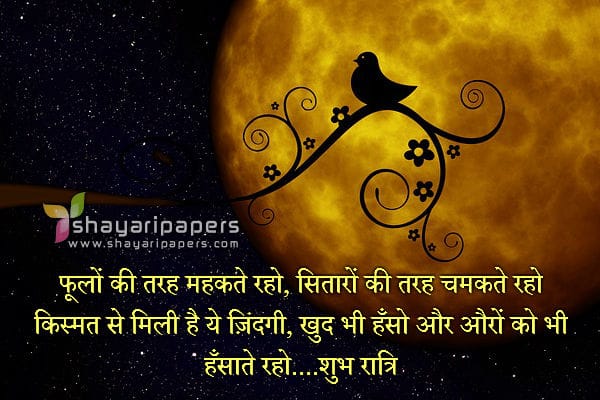 Phoolon Ki Tarah Mehakte Raho, Sitaro Ki Tarah Chamakte Raho
Kismat Se Mili Hai Ye Zindagi, Khud Bhi Hanso Aur Auro Ko Bhi Hansate Raho
Shubh Ratri
---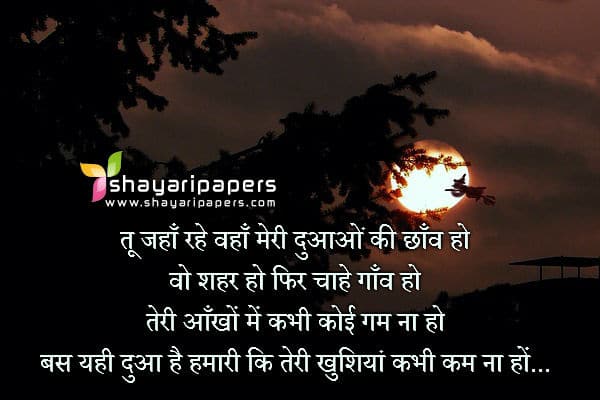 Tu Jahan Rahey Wahan Meri Duaon Ki Chaanv Ho
Wo Shehar Ho Phir Chahe Ganv Ho
Teri Aakhon Mein Kabhi Koi Gum Na Ho
Bus Yahi Dua Hai Hamari Ki Teri Khushiya Kabhi Kam Na Ho…
---
Some more Good Night Shayari Photos HD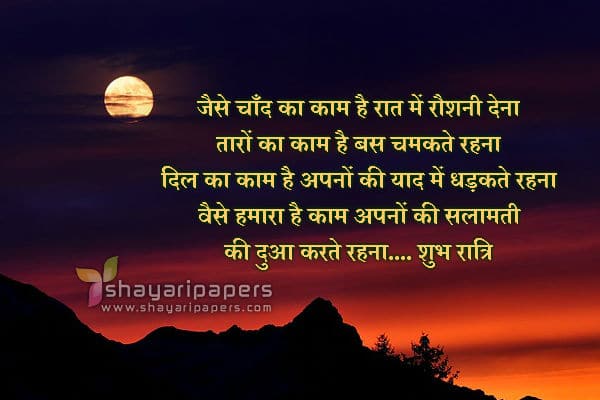 Jaise Chand Ka Kaam Hai Raat Mein Roshni Dena
Taro Ka Kaam Hai Bus Chamakte Rehna
Dil Ka Kaam Hai Apno Ki Yaad Mein Dhadakte Rehna
Waise Hamara Hai Kaam Apno Ki Salamati Ki Dua Karte Rehna… Shubh Ratri
---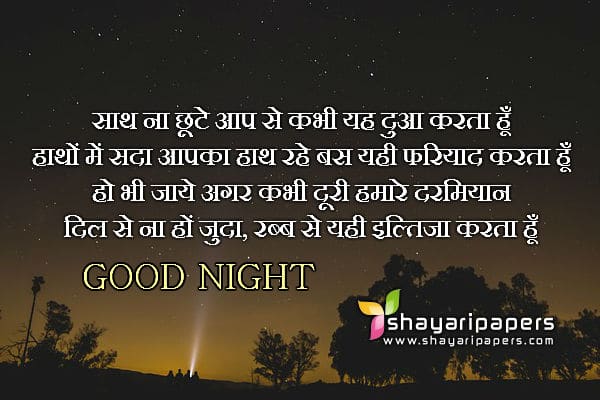 Saath Na Chutey Aap Se Kabhi Ye Dua Karta Hu
Hathon Mein Sada Aapka Hath Rahey Bus Yahi Fariyad Karta Hu
Ho Bhi Jaaye Agar Kabhi Duri Hamare Darmiyan
Dil Se Na Ho Juda, Rab Se Yahi Iltiza Karta Hu
Good Night
---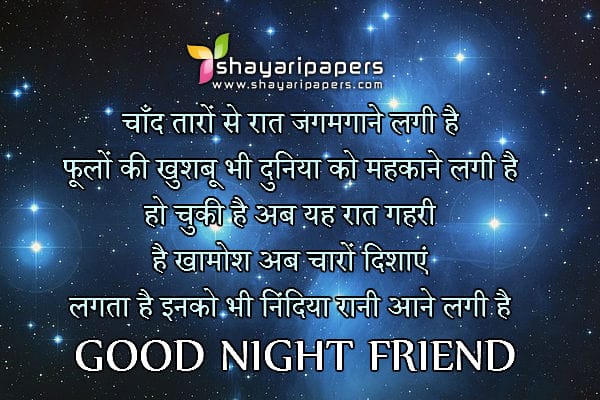 Chand Taro Se Raat Jagmagane Lagi Hai
Phoolon Ki Khushbu Bhi Duniya Ko Mehkane Lagi Hai
Ho Chuki Hai Ab Ye Raat Gehri
Hai Khamosh Ab Charo Dishayein
Lagta Hai Inko Bhi Nindiya Raani Aane Lagi hai
Good Night Friend
---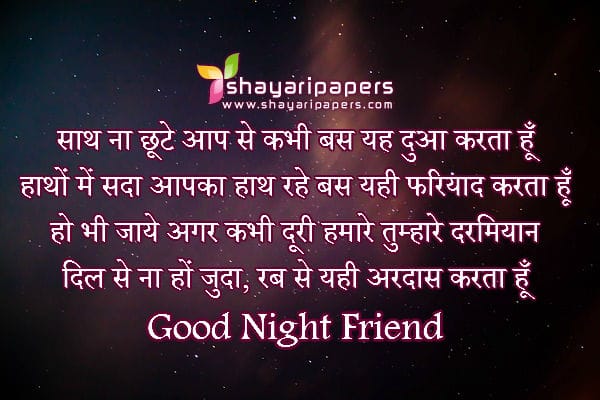 Saath Na Chute Aap Se Kabhi Bas Ye Dua Karta Hu
Haatho Mein Sada Aapka Hath Rahey Bus Yahi Fariyad Karta Hu
Ho Bhi Jaaye Agar Kabhi Doori Hamare Tumhare Darmiyan
Dil Se Na Ho Juda, Rab Se Yahi Ardaas Karta Hu
Good Night Friend
---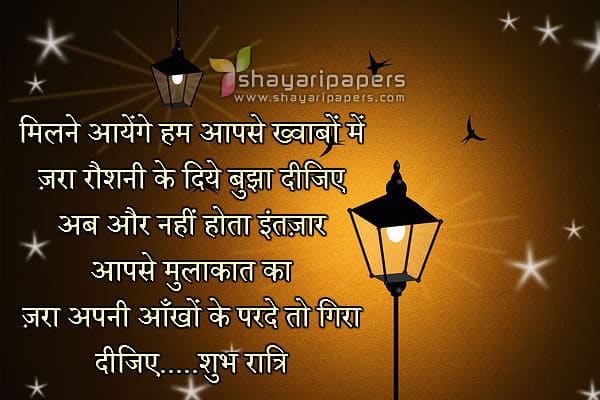 Milne Aayeinge Hum Aapse Khwabo Mein
Jara Roshni Ke Diye Bujha Dijiye
Ab Aur Nahi Hota Intezaar Aapse Mulaqat Ka
Jara Apni Aakhon Ke Parde To Gira Dijiye
Shubh Ratri
---
Latest Good Night Shayari Pics and Pictures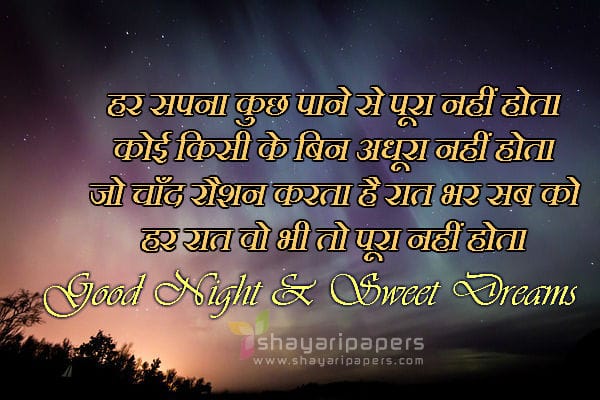 Har Sapna Kuch Paane Se Poora Nahi Hota
Koi Kisi Ke Bin Adhura Nahi Hota
Jo Chand Roshan Karta Hai Raat Bhar Sab Ko
Har Raat Wo Bhi To Poora Nahi Hota
Good Night & Sweet Dreams
---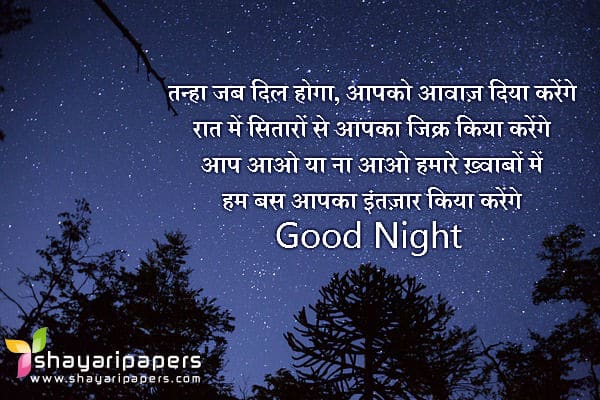 Tanha Jab Dil Hoga, Aapko Aawaz Diya Kareinge
Raat Mein Sitaro Se Aapka Jikr Kiya Kareinge
Aap Aao Ya Na Aao Hamare Khwabo Mein
Hum Bas Aapka Intezaar Kiya Kareinge
Good Night
---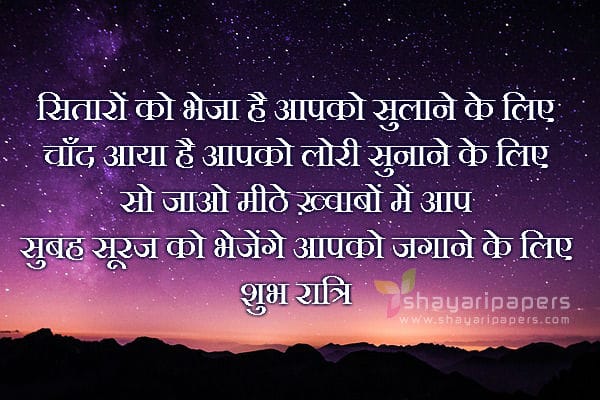 Sitaro Ko Bheja Hai Aapko Sulane Ke Liye
Chand Aaya Hai Aapko Lori Sunane Ke Liye
So Jaao Meethe Khwabon Mein Aap
Subah Sooraj Ko Bhejeinge Aapko Jagane Ke Liye
Good Night
---
*** Please share your feedback on post Good Night Shayari Images | गुड नाईट शायरी इमेजेज in comment section to appriciate our work ***