Desh Bhakti Shayari Images and देशभक्ति शायरी इमेजेज in hindi with Desh Bhakti Shayari Photos and HD Pics / Pictures to download and express your feelings. Also check some best Deshbhakti Shayari on Independence Day and Republic Day.
In this post you will also get some best Patriotic Shayari in Hindi and Desh Bhakti Shayari Wallpapers. Hope you will like this as you liked our Dosti Shayari Images and Friendship Shayari Images collection.
Desh Bhakti Shayari Images | देशभक्ति शायरी इमेजेज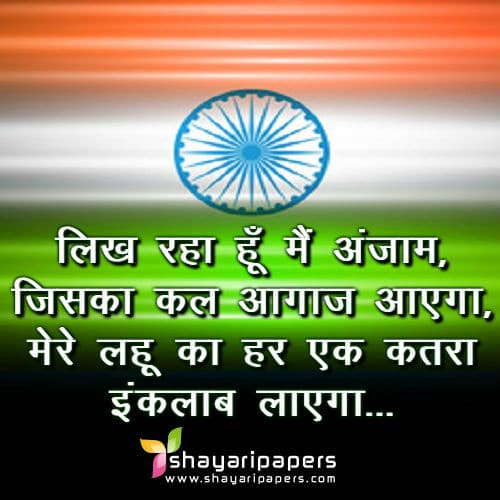 Likh Raha Hoon Main Anjaam,
Jiska Kal Aagaz Aayega,
Mere Lahu Ka Har Ek Katra Inqilab Layega… 💪💪💪
---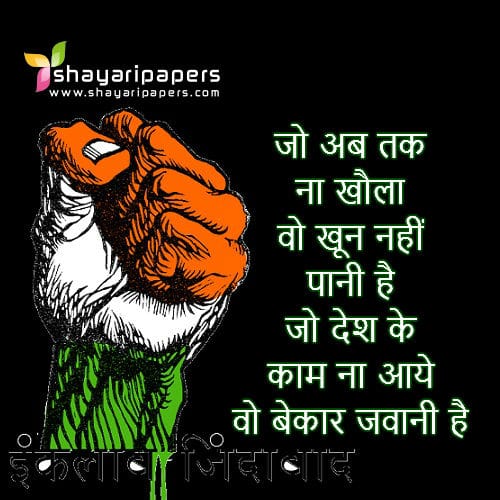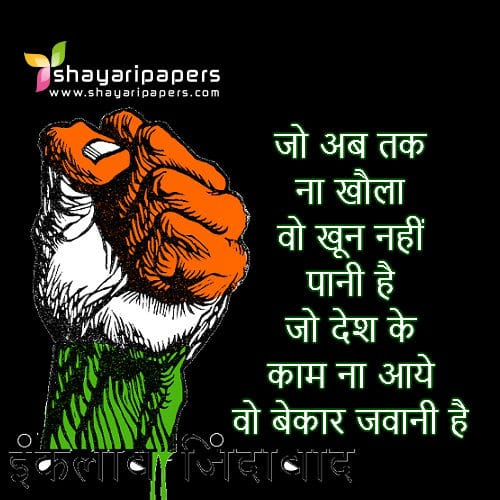 Jo Ab Tak Na Khaula
Wo Khoon Nahi Paani Hai
Jo Desh Ke Kaam Naa Aaye
Wo Bekaar Jawani Hai….
---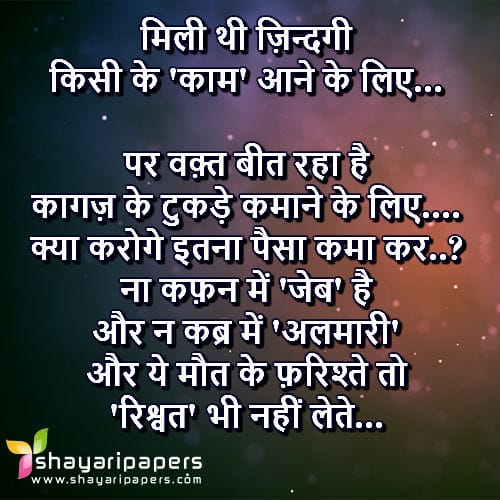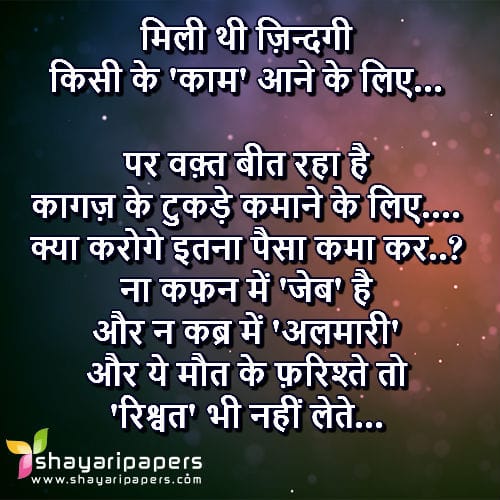 Mili Thi Zindagi
Kisi Ke 'Kaam' Aane Ke Liye…
Par Waqt Beet Raha Hai
Kagaz Ke Tukde Kamane Ke Liye…
Kya Karoge Itna Paisa Kama Kar?
Na Kafan Mein 'Jeb' Hai Aur Na Kabr Mein 'Almari'
Aur Ye Maut Ke Farishte To
Rishwat Bhi Nahi Lete…
---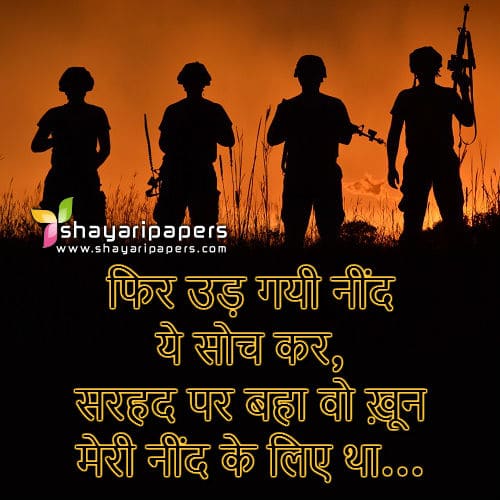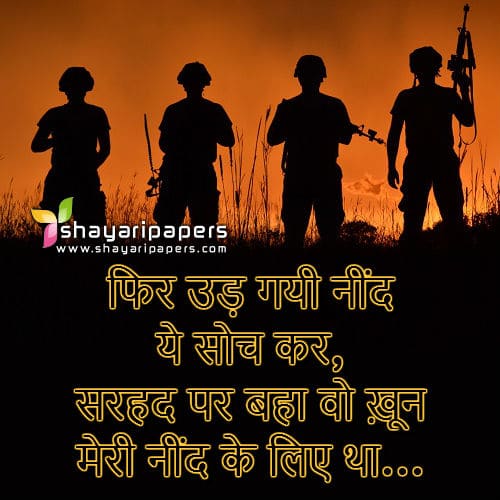 Desh Bhakti Shayari On Indian Army
Phir Udd Gayi Neend Ye Soch Kar,
Sarhad Par Baha Wo Khoon Meri Neend Ke Liye Tha….
---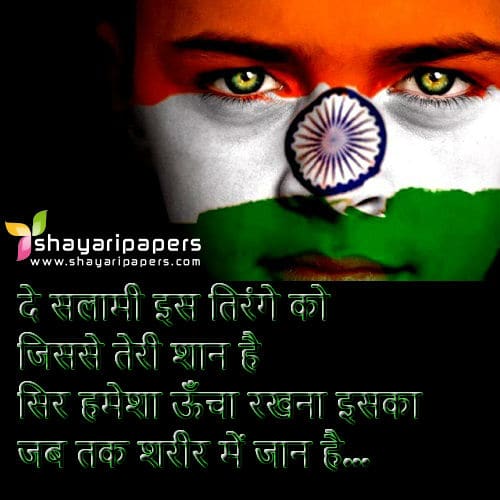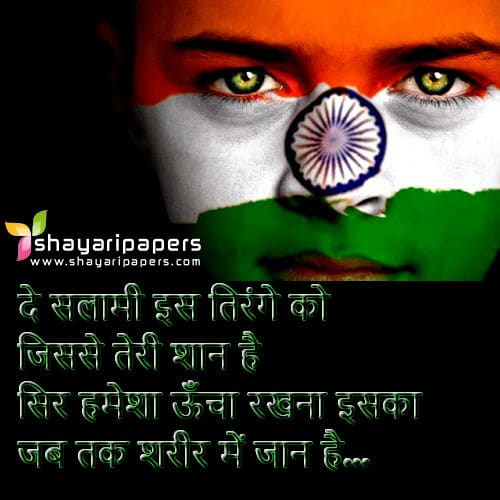 De Salami Is Tirange Ko Jisse Teri Shaan Hai,
Sar Hamesha Uncha Rakhna Iska Jab Tak Shareer Mein Jaan Hai..
Swatantrata Diwas Ki Shubhkamnayein
---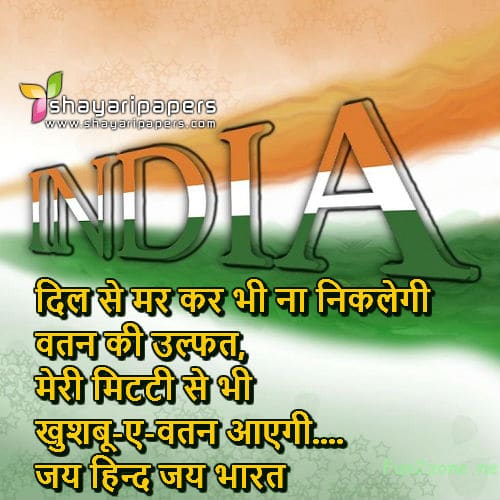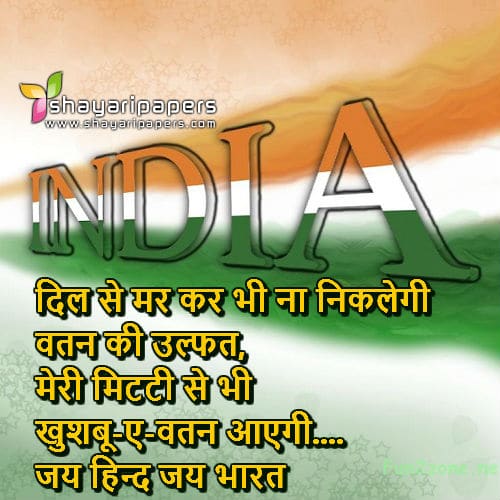 Dil Se Mar Kar Bhi Na Niklegi
Watan Ki Ulfat,
Meri Mitti Se Bhi
Khushoo-E-Watan Aayegi….
Jai Hind Jai Bharat
Some more Desh Bhakti Shayari in Hindi with Photos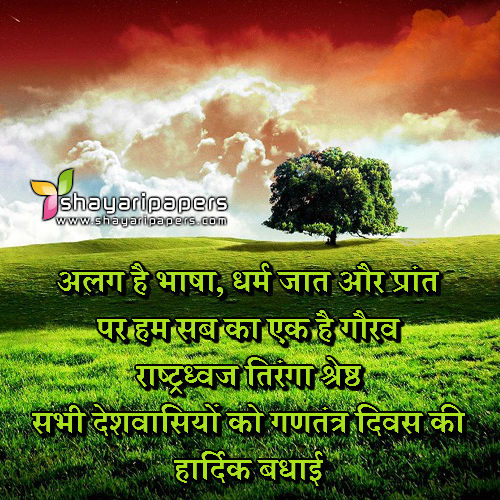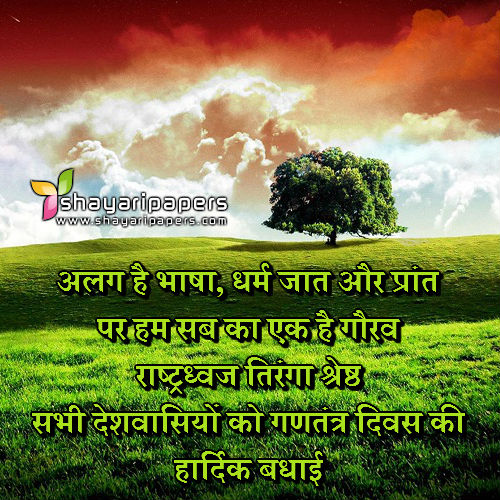 Alag Hai Bhasha, Dharm Jaat Aur Prant
Par Hum Sab Ka Ek Hai Gaurav
Rashtra Dwaj Tiranga Shresht
Sabhi Deshwasiyon Ko Gantantra Diwas Ki Hardik Badhai
---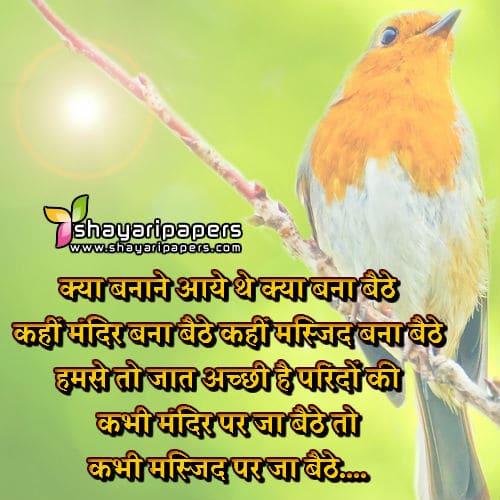 Kya Banane Aaye They Kya Bana Baithey
Kahin Mandir Bana Baithey To Kahin Masjid Bana Baithey
Humse To Jaat Acchi Hai Parindo Ki
Kabhi Mandir Par Jaa Baithey To
Kabhi Masjid Par Jaa Baithey
---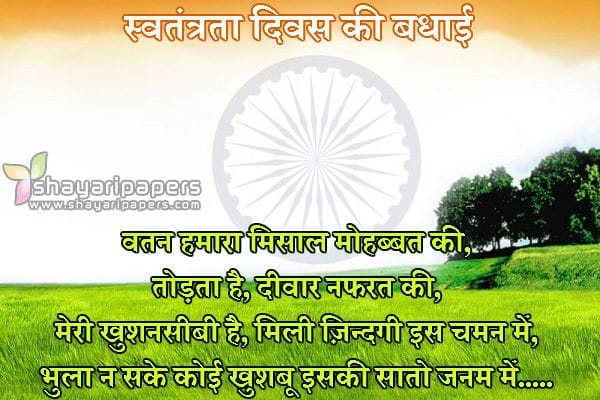 Vatan Hamara Misal Mohabbat Ki,
Todta Hai, Deewar Nafrat Ki,
Meri Khushnaseebi Hai, Mili Zindagi Is Chaman Mein,
Bhula Na Sakey Koi Khushbu Iski Saton Janam Mein..
Swatantrata Diwas Ki Badhai
---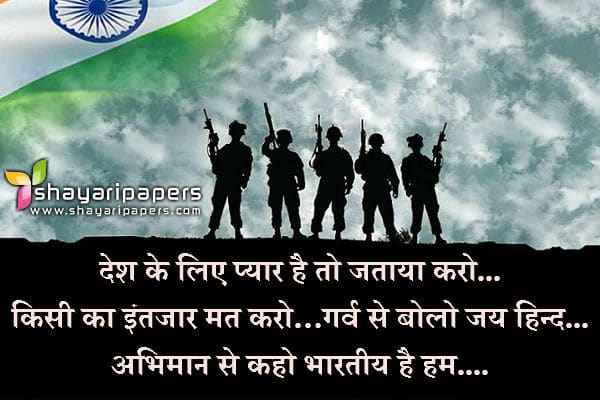 Desh Ke Liye Pyaar Hai To Jataya Karo…
Kisi Kaa Intezaar Mat Karo…Garv Se Bolo Jai Hind…
Abhiman Se Bhartiya Hain Hum… Jai Hind Jai Bharat
---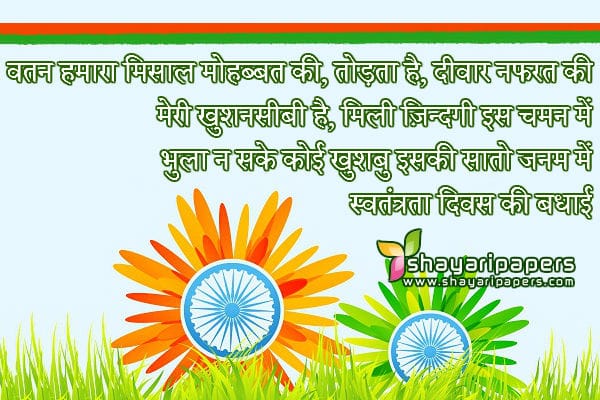 Watan Hamara Misaal Mohabbat Ki, Todta Hai, Deewar Nafrat Ki
Meri Khushnasibi Hai, Mili Zindagi Iss Chaman Mein
Bhula Na Sake Koi Khushbu Iski Sato Janam Mein
Happy Independence Day
---
Desh Bhakti Shayari Wallpapers

Chadh Gaye Jo Hanskar Suli, Khai Jinhone Seene Par Goli
Hum Unko Pranam Karte Hain Jo Mit Gaye Desh Par
Hum Sab Unko Salaam Karte Hain
Happy 15 August
---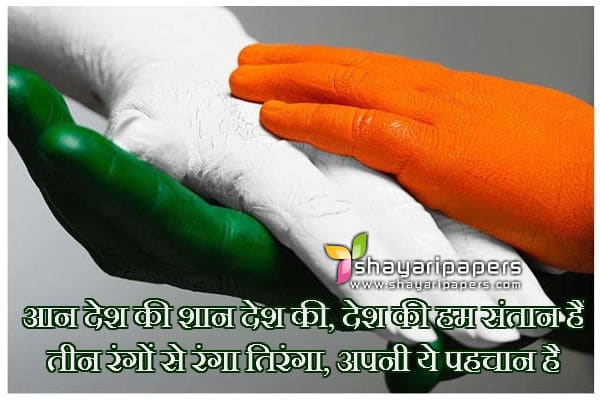 Aan Desh Ki Shaan Desh Ki, Desh Ki Hum Santaan Hai
Teen Rango Se Ranga Tiranga, Apni Ye Pehchan Hai
---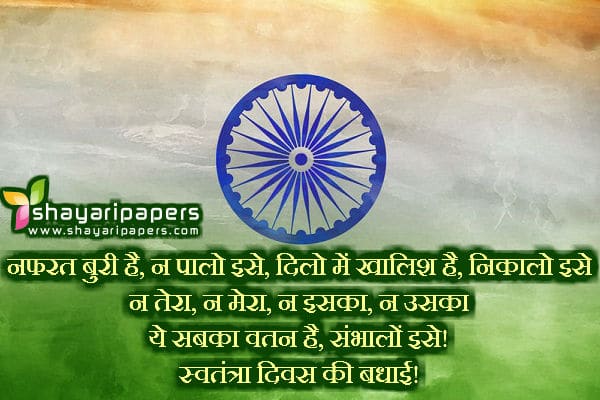 Nafrat Buri Hai, Na Palo Isse, Dilon Mein Khalish Hai, Nikalo Isse
Na Tera, Na Mera, Na Iska, Na Uska
Ye Sabka Watan Hai, Sambhalo Isse
Happy Independence Day
---

Aao Desh Ka Samman Karein
Shaheedo Ki Shahadat Ko Yaad Karein
Ek Baar Phir Se Rashtra Ki Kaman
Hum Hindustani Apne Hath Dhare
Aao Swatantra Diwas Ka Samman Karein
---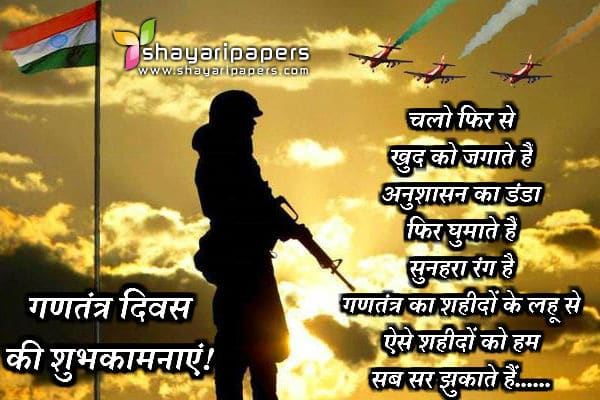 Chalo Phir Se Khud Ko Jagate Hain
Anushasan Ka Danda Phir Ghumate Hain
Sunhara Rang Hai Gantantra Ka Shaheedo Ke Lahu Se
Aise Shaheedo Ko Hum Sab Sar Jhukate Hain…
Gantantra Diwas Ki Shubhkamnaye
---
Desh Bhakti Shayari Photos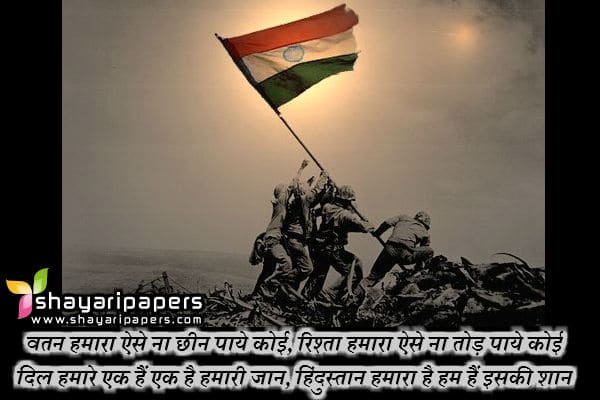 Watan Hamara Aise Na Cheen Paaye Koi, Rishta Hamara Aise Na Tod Paaye Koi
Dil Hamare Ek Hain Ek Hai Hamari Jaan, Hindustan Hamara Hai Hum Hain Iski Shaan
---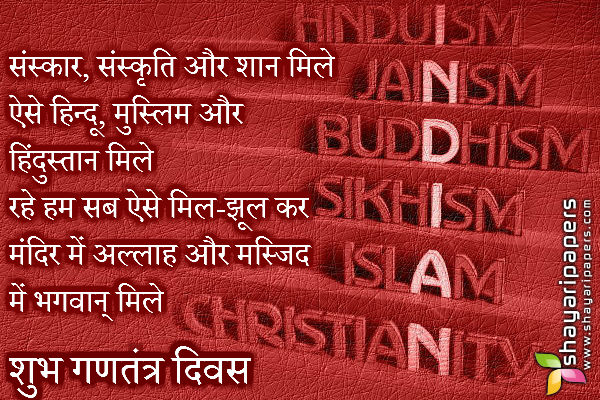 Sanskaar, Sanskriti Aur Shaan Mile
Aise Hindu, Muslim Aur Hindustan Mile
Rahey Hum Sab Aise Mil Jhul Kar
Mandir Mein Allah Aur Masjid Mein Bhagwan Mile
Happy Republic Day
---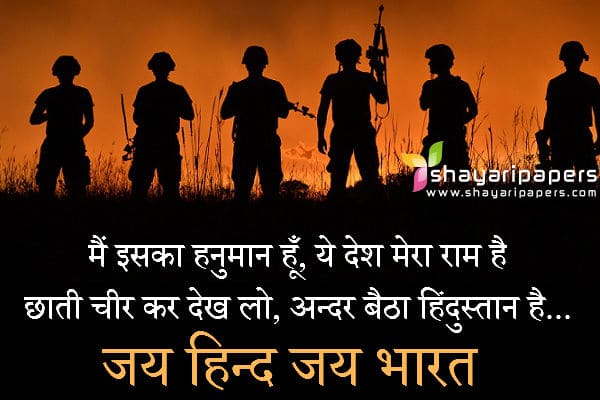 Mein Iska Hanuman Hu, Ye Desh Mera Ram Hai
Chaati Cheer Kar Dekh Lo, Andar Baitha Hindustan Hai
Jai Hind Jai Bharat
---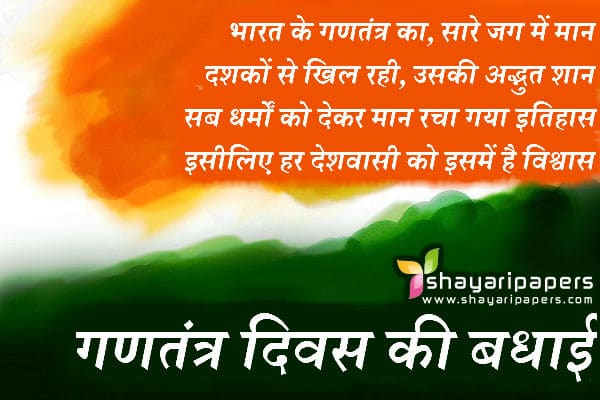 Bharat Ke Gantantra Ka, Sare Jag Mein Maan
Dashako Se Khil Rahi, Uski Adbhud Shaan
Sab Dharmo Ko Dekar Maan Racha Gaya Itihaas
Isiliye Har Deshwasi Ko Ismein Hai Vishwas
Gantantra Divas Ki Badhai
---

Aan Desh Ki Shaan Desh Ki
Desh Ki Hum Santaan Hain
Teen Rango Se Ranga Tiranga
Apni Ye Pehchan Hai
Jai Hind Jai Bharat
---
Some latest Desh Bhakti Shayari in Hindi

Kuch Nasha Tirange Ki Aaan Ka Hai
Kuch Nasha Matrabhumi Ki Shaan Ka Hai
Hum Lahrayeinge Har Jagah Ye Tiranga
Nasha Ye Hindustan Ki Shaan Kaa Hai
---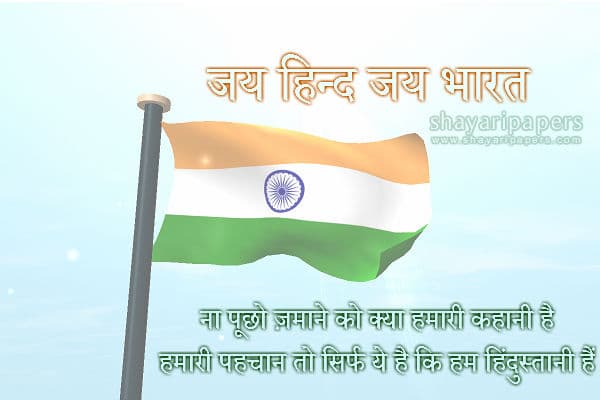 Naa Pucho Jamane Ko Kya Hamari Kahani Hai
Hamari Pahchan To Sirf Ye Hai Ki Hum Hindustani Hai
Jai Hind Jai Bharat
---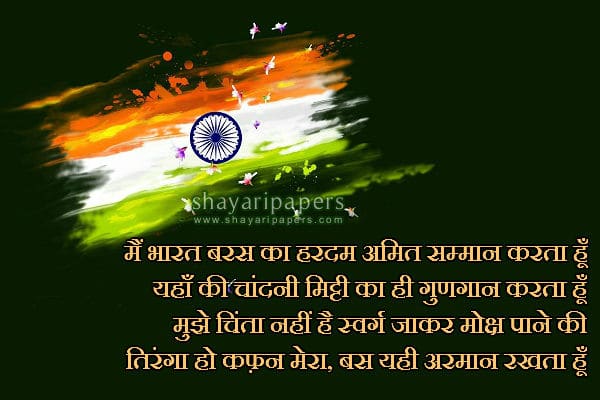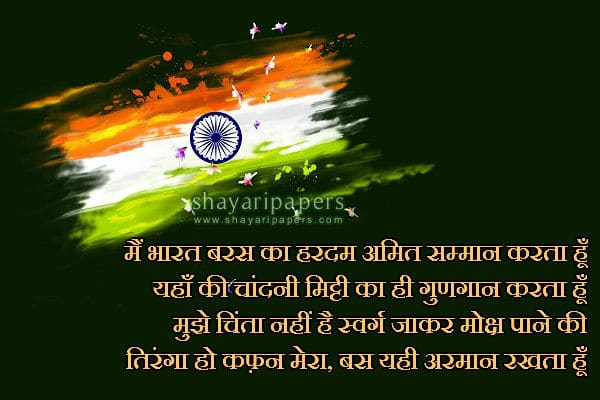 Mein Bharat Baras Ka Hardam Amit Samman Karta Hu
Yaha Ki Chandni Mitti Ka He Gungan Karta Hu
Mujhe Chinta Nahi Hai Swarg Jaakar Moksh Paane Ki
Tiranga Ho Kafan Mera, Bas Yahi Armaan Karta Hu
---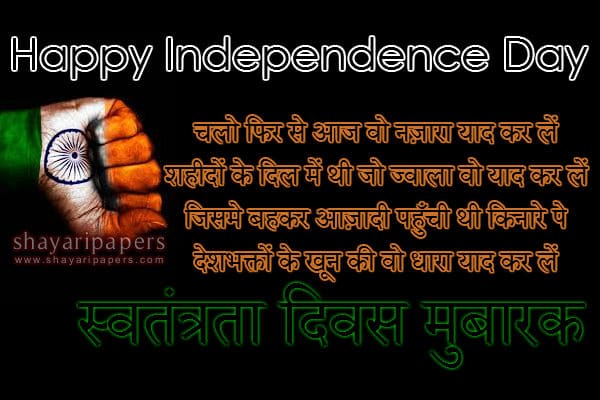 Chalo Phir Se Aaj Wo Nazara Yaad Kar Lein
Shaheedo Ke Dil Mein Thi Jo Jwala Wo Yaad Kar Lein
Jismein Bahkar Aajadi Pahuchi Thi Kinare Pe
Deshbhakto Ke Khoon Ki Wo Dhara Yaad Kar Lein
Happy Independece Day
---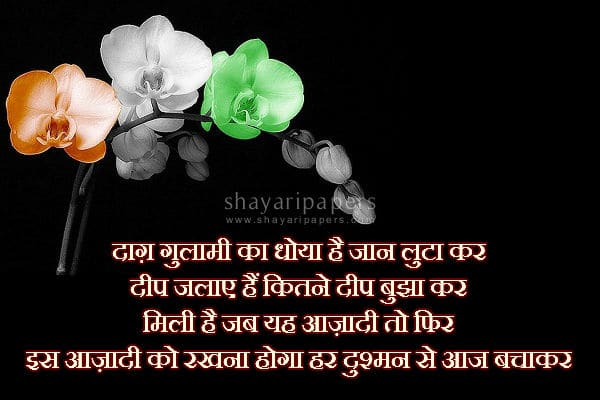 Daag Gulami Ka Dhoya Hai Jaan Luta Ke
Deep Jalaye Hain Kitne Deep Bujha Ke
Mili Hai Jab Ye Aazadi To Phir
Iss Aajadi Ko Rakhna Hoga Har Dushman Se Aaj Bachake
---
Desh Bhakti Shayari 2019 Images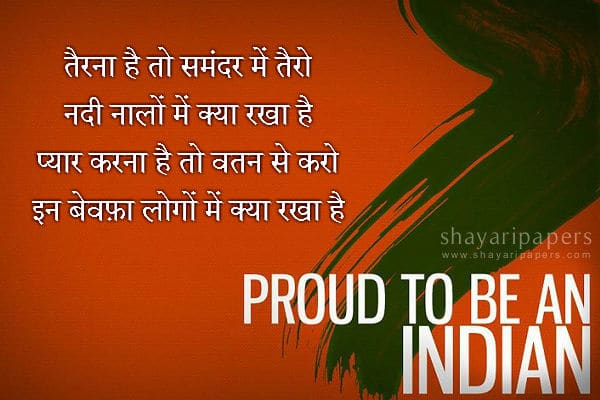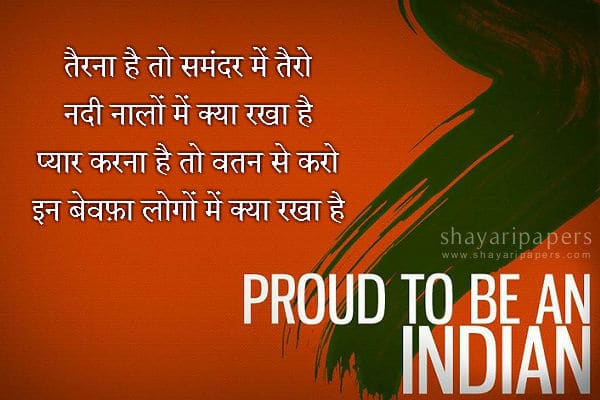 Tairna Hai To Samandar Mein Tairo
Nadi Naalo Mein Kya Rakha Hai
Pyar Karna Hai To Watan Se Karo
In Bewafa Logo Mein Kya Rakha Hai
---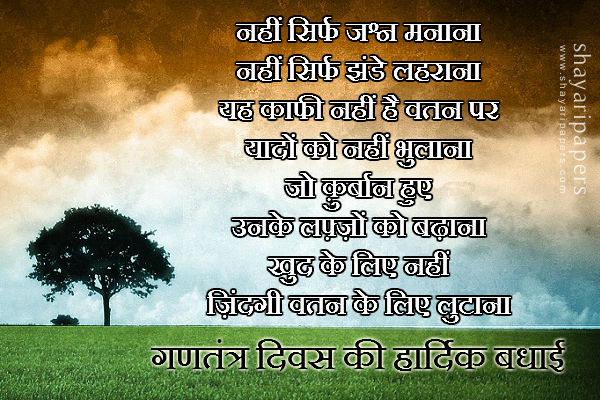 Nahi Sirf Jasn Manana
Nahi Sirf Jhande Lahrana
Yeh Kaafi Nahi Hai Watan Par
Yaado Ko Nahi Bhulana
Jo Kurbaan Huey
Unke Lafjo Ko Badhana
Khud Ke Liye Nahi
Zindagi Watan Ke Liye Lutana
Happy Republic Day !
---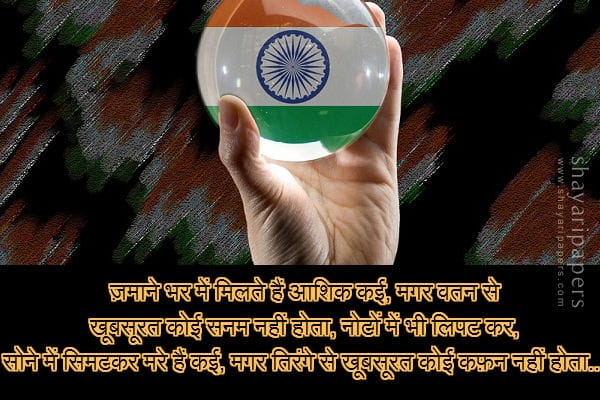 Jamane Bhar Mein Milte Hain Aashiq Kai,
Magar Watan Se Khubsurat Koi Sanam Nahi Hota,
Noto Mein Bhi Lipat Kar Sone Mein Simatkar Marey Hain Kai,
Magar Tirange Se Khubsurat Koi Kafan Nahi Hota…
---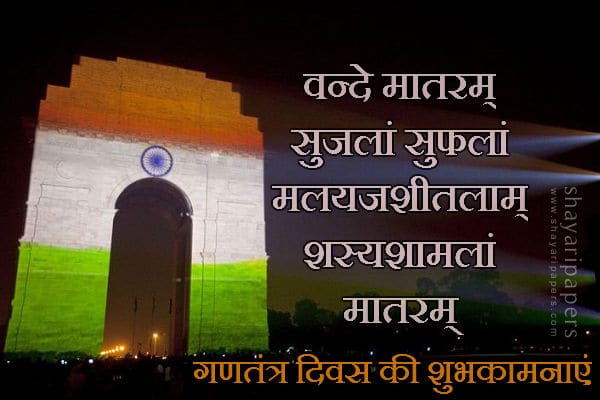 Vade Matram
Sujlam Suflam
Malyajsheetlam
ShsyaShyamlam
Maatram…
Happy Republic Day
---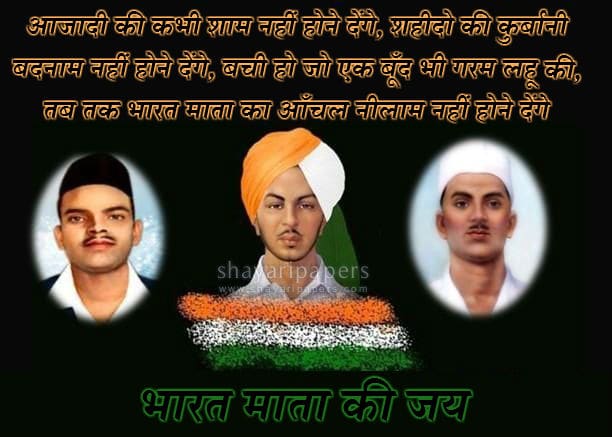 Aajadi Ki Kabhi Shaam Nahi Honey Deinge,
Shaheedo Ki Kurbani Badnaam Nahi Hone Deinge,
Bachi Ho Jo Ek Boond Bhi Garam Lahu Ki,
Tab Tak Bharat Mata Ka Aanchal Nilaam Nahi Honey Deinge…
---
Some latest Desh Bhakti Shayari Photos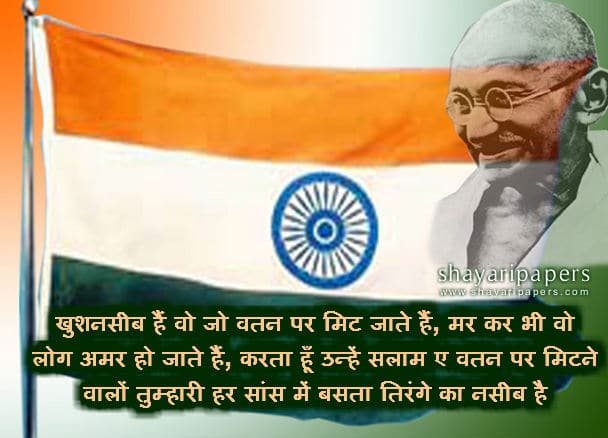 Khushnaseeb Hain Woh Joo Watan Par Mitt Jaatey Hain,
Marr Kar Bhi Wo Log Amar Ho Jaate Hain,
Kartaa Hoon Unhey Salaam Aye Watan Par Mitney Walon,
Tumhari Har Saans Mein Basta Tirange Kaa Naseeb Hai
---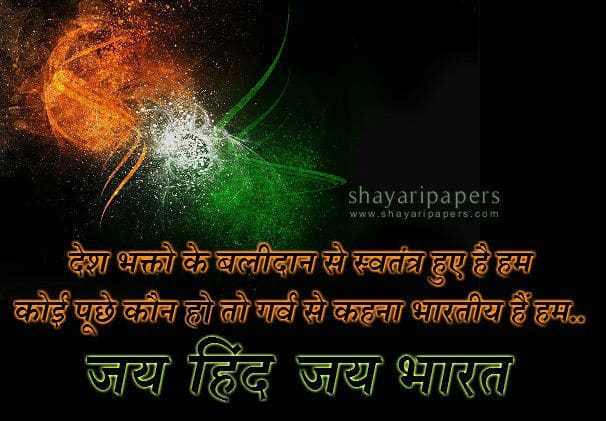 Desh Bhakton Ke Balidan Sey
Swatantra Huey Hain Humm
Koi Puchey Kon Ho To Grav
Se Kahna Bhartiya Hain Humm..
Jai Hind Jai Bharat
---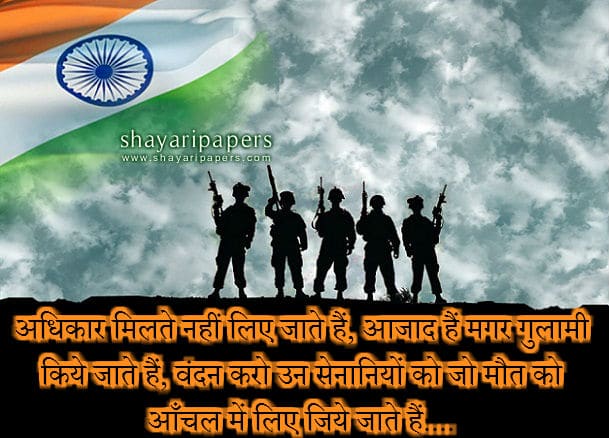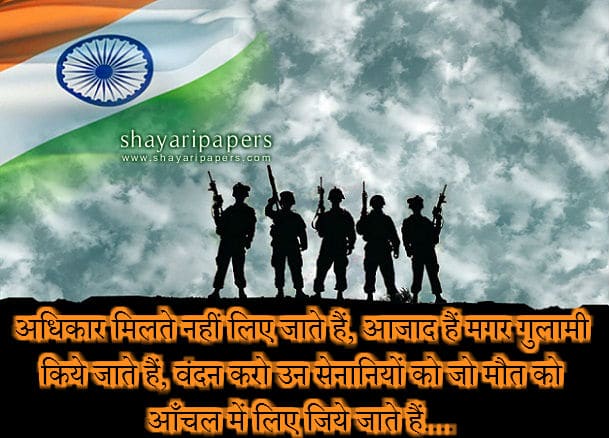 Adhikar Miltey Nahi Liye Jaatey Hain
Aajad Hain Magar Gulami Kiye Jaatey Hain
Wandan Karo Unn Senaniyo Ko Jo Maut Ko Aanchal Mein Liye Jiyee Jaate Hain…
---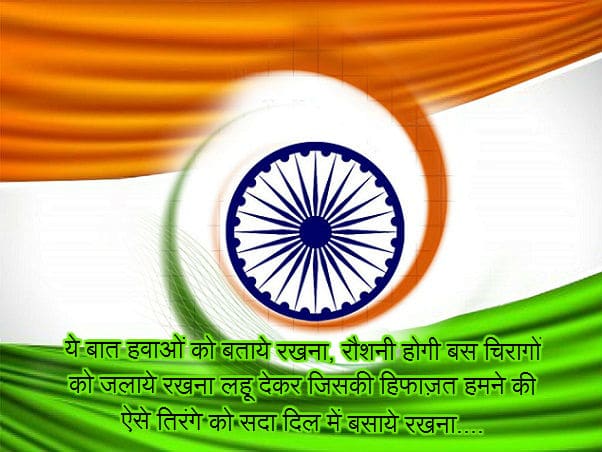 Ye Baat Hawao Ko Bataye Rakhna,
Roshni Hogi Bas Chirago Ko Jalaye Rakhna,
Lahu Dekar Jiski Hifajat Humne Ki
Aise Tirange Ko Sada Dil Mein Basaye Rakhna..
---
*** जय हिन्द दोस्तों, आशा करते हैं आपको हमारी ये पोस्ट Desh Bhakti Shayari Images | देशभक्ति शायरी इमेजेज पसंद आई होगी, अपने विचार नीचे कमेंट बॉक्स में जरुर लिखें ***