Apnapan Shayari and अपनापन शायरी in Hindi with shayari on apnapan with image wallpaper and photos to download and share and express to express your feelings on Facebook and Whatsapp. These best apnapan shayari with HD Image and Photo will be the best collection on the web. Earlier we shared some Akelapan Shayari Images and Aadat Shayari Images on our blog.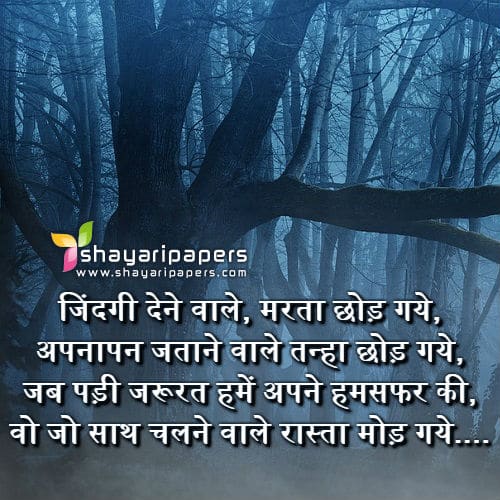 Apnapan Shayari | अपनापन शायरी | Shayari on Apnapan Image
(1)
अपने सीने से लगाए हुए उम्मीद की लाश,
मुद्दतों जीस्त को नाशाद किया है मैंने,
तूने तो एक ही सदमे से किया था दो-चार,
दिल को हर तरह से बर्बाद किया है मैंने…
---
(2)
Hum Jab Bhi Aap Ki Duniya Se Jaayenge,
Itni Khusiya Aur Apnapan De Jayenge,
Ki Jab Bhi Yaad Karoge Is Pagal Ko,
Hasti Aankhon Se Bhi Aansoon Nikal Aayenge….
---
(3)
जिंदगी देने वाले, मरता छोड़ गये,
अपनापन जताने वाले तन्हा छोड़ गये,
जब पड़ी जरूरत हमें अपने हमसफर की,
वो जो साथ चलने वाले रास्ता मोड़ गये….
---
(4)
Yaadon Ki Dhundh Me Aapki Parchaai Si Lagti Hai,
Kaano Me Goonjti Shahnaai Si Lagti Hai,
Aap Kareeb Hai To Apnapan Hai,
Varna Seene Me Saans Bhi Paraai Si Lagti Hai….
---
(5)
तुझमें अपनापन देखा था मैंने,
सर झुकाके शरमाई थी मैं,
दिल ही दिल में घबराई थी मैं,
तेरे माथे को चूम अपना समझा था मैंने,
तेरे सीने को छू तेरी धडकनों को सुना था मैंने,
क्या हो गया तुझे,
क्यूँ छोड़ गया तू मुझे,
जान तेरी ना मैं तेरी….
---
*** Please share your feedback on post Apnapan Shayari | अपनापन शायरी | Shayari on Apnapan Image in comment section below ***