Aarzoo Shayari and आरज़ू शायरी in Hindi with 2 line Aarzoo Shayari Images and HD Photos with Wallpapers to share on facebook and whatsapp. These Aarzoo Shayari Facebook will be the best collection on the web to express your dil ki baat shayari ke sath. Earlier we posted some nice Aagosh Shayari Images and Aadat Shayari Images in Hindi on our blog.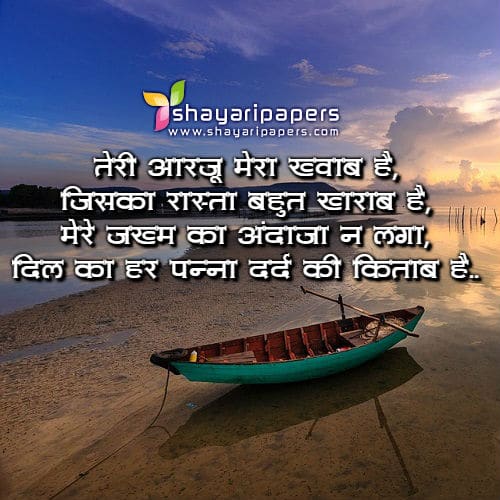 Top 10 Aarzoo Shayari | आरज़ू शायरी | 2 line Aarzoo Shayari Images
(1)
तमन्ना है मेरी की आपकी आरज़ू बन जाऊं
आपकी आँख का तारा न सही आपकी आँख का आंसू बन जाऊं
मैं आप की जिंदगी की ख़ुशी बनू या ना बन सकूँ
आपके गम में आपका सहारा बन जाऊं
---
(2)
इआ जिंदगी को जीने की आरज़ू
बिन तेरे है अधूरी
तेरे साथ जो मिल जाए
मेरी जिंदगी हो जाए पूरी
---
(3)
तेरे इश्क का कितना हसीं एहसास है
लगता है जैसे तू हर पल मेरे पास है
मोहब्बत तेरी दीवानगी बन चुकी है मेरी
अब जिंदगी की आरज़ू सिर्फ तुम्हारे साथ है
---
(4)
तेरी आरज़ू मेरा ख्वाब है,
जिसका रास्ता बहुत खराब है,
मेरे ज़ख्म का अंदाज़ा न लगा,
दिल का हर पन्ना दर्द की किताब है…
---
(5)
ये आरज़ू नहीं की किसी को भुलाये हम,
न तम्मना नहीं है की किसी को रुलाये हम,
बस जिसको जितना याद करते है,
उसे भी उतना याद आये हम…
Some More
Aarzoo Shayari in Hindi
(6)
Eh Mere Dost Itna Khyal Rakhna,
Apne Dil Ko Aise Hi Paak Rakhna,
Kal Main Na Bhi Rahun Is Jahan Mein Agar,
Yeh Aarju Hai Aap Hamein Yaad Rakhna….
---
(7)
Agar Zindagi Mein Kabhi Pyar Hum Karenge,
Har Haal Mein Us Pe Aitbar Hum Karenge,
Karenge Hum Sada Poori Har Aarju Uski,
Wada Raha Na Kabhi Takrar Hum Karenge….
---
(8)
Umeedon Ke Daman Mein Zinda Hain Hum,
Warna Jeene Ki Chahat Kahan,
Tumse Milne Ki Aarzoo Liye Firte Hain Dar-b-dar,
Warna Is Laash Ke Naseeb Mein Kabar Kahan….
---
(9)
Aisa Nahi Ke Mujh Ko Aarju Nahi Hai Khusiyo Ki,
Magar Ise In Dard Mein Bhi Ek Ajib Sa Maja Aata Hai,
Yeh Isliye Bhi Badhana Chahta Hai Apne Dard Ko Dosto,
Kyunki Kahte Hain Badh Jaane Par Dard Dava Ban Jata Hai….
---
(10)
Aarzoo Jhooth Hai,
Aarzoo Ka Fareb Khana Nahi,
Khush Jo Rahna Ho Zindagi Me Tumhe,
Dil Kabhi Kisi Se Lagana Nahi…
---
*** Please give your comments on this post Aarzoo Shayari | आरज़ू शायरी | 2 line Aarzoo Shayari Images in comment section below ***