Aansu Shayari Hindi Collection – After sharing Dard Shayari and Bewafa Shayari today we are sharing some nice Aansu Shayari Collection in Hindi and English both fonts, Share these Two Lines Aansu Shayari along with Wallpaper and Images and share your feelings.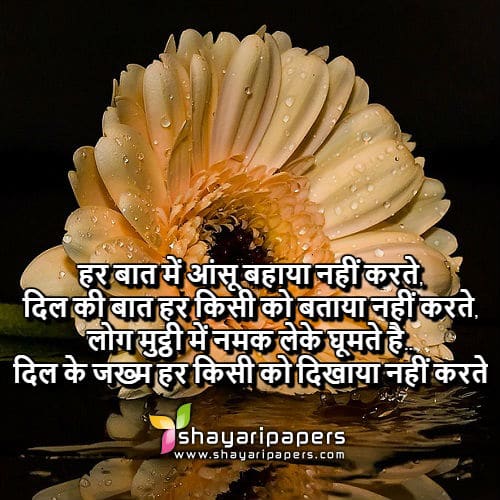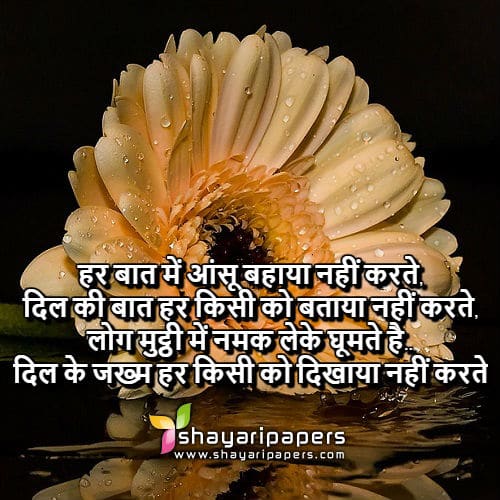 Aansu Shayari Hindi Collection
हर बात में आंसू बहाया नहीं करते,
दिल की बात हर किसी को बताया नहीं करते,
लोग मुट्ठी में नमक लेके घूमते है..
दिल के जख्म हर किसी को दिखाया नहीं करते।
---
Aansu Shayari Two Line
Aansuo Tale Mere Saare Armaan Bahe Gaye,
Jinse Ummid Lgaye Baithe The Wahi Bewafa Ho Gaye,
Thi Hamai Jin Charago Se Ujale Ki Chah,
Wo Charag Na Jaane Kin Andhero Mai Kho Gaye.
---
Shayari About Aansu
आंसुओं की बूँदें हैं या आँखों की नमी है
न ऊपर आसमां है न नीचे ज़मी है
यह कैसा मोड़ है ज़िन्दगी का
उसी की ज़रूरत है और उसी की कमी है
---
Sad Aansu Shayari In Hindi
Ankho Me Aansu,
Chehre Par Hansi Hai,
Saanso Me Aahein,
Dil Me Bebasi Hai,
Pehle Kyun Nahi Bataya Ki,
Darwaje Mein Ungli Fansi Hai.
---
Shayari For Aansu
आँखों से आंसू भी न निकले और नमी भी है…
उनकी याद भी साथ है और तन्हाई भी है…
सांस तो साथ है मगर जिन्दगी नहीं…
हर सांस मे तू रहती भी है और तेरी कमी भी है…
---
Aansoo Shayari Sms Hindi
Agar Wo Khush Hai Dekh Kar Aansu Meri Aankhon Mein,
To Rab Ki Kasam Hum Muskurana Chhod Denge,
Tadapte Rahenge Use Dekhne Ko,
Lekin Us Ki Taraf Nazrein Uthana Chhod Denge.
---
Aansu Shayari Facebook
आप से दूर हो कर हम जायेंगे कहा,
आप जैसा दोस्त हम पाएंगे कहा,
दिल को कैसे भी संभाल लेंगे,
पर आँखों के आंसू हम छुपायेंगे कहा.
---
Hope you like these Aansu Shayari Hindi Collection, Read Mohabbat Shayari Hindi and many more shayaries on Shayaripapers.Com