10 Effective Ways to Propose a Girl of Your Dream : It's always dream for a Boy to Propose a Girl to whom he love and have some feelings about her and on other side every girl's biggest dream is her perfect and memorable proposal. Every boy has a dream to propose and every girl has a dream, to be asked this lovely question. There are lots of ways to propose a Girl but what and how to propose a girl in proper way? Around 70% of boys are always confused or lacking in the romance and creativity to ask such an important and lovely question. In today's scenario most of girls do not want be proposed in simple style that is the guy getting down on one knee with a red rose in his hand, and just proposing.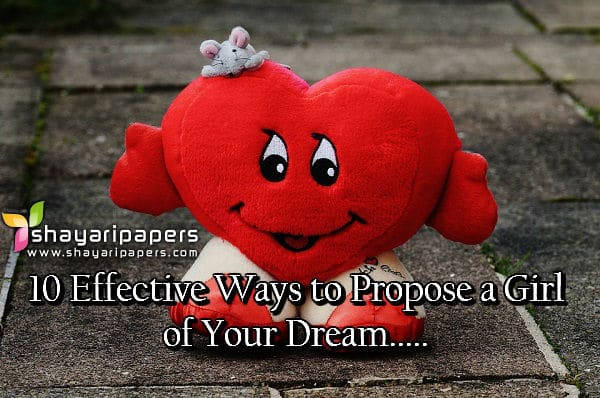 Actually this is an old way to propose a Girl. You can make your proposal as the best and the most romantic date with your loved ones. We at ShayariPapers give you the top 10 best ways to propose a girl. And we are dam sure that by these methods your girl of your dreams will say YES. These are just ten best ways to propose a girl and we do hope you will get your way to propose and win the heart of your lady.
(1) Be Yourself To Propose
This is the first and last way that you need to get into your mind when you think of proposing your Love. Do not overdo your proposal or do not show possessiveness while proposing. Just keep it simple yet special and sweet. Be creative, and be yourself. It's every girls dream to have a guy propose to her. Be who you are, and in your own special way say those three golden words.
(2) Invite For A Candle Lit Dinner
Yes, this is an old way but still it's effective to propose your Dream Girl. Invite for a Candle Lit Dinner because candles are one of the ideal elements of a romantic evening. The low lights of the candles burning flames and the romantic music set one of the perfect settings for a romantic proposal. A candle lit dinner is a romantic way to propose to anyone who holds a special place in your heart and the one you want to spend the rest of your life with. Guys set the mood, by preparing and cooking your significant other their favorite dinner. Turn off all lights and lit the candles, play romantic songs or play your own guitar and violin if you know. The glowing of the candles sets a mood for a night full of romance and is one of the most perfect scenes to propose. It will set the mood for love and romance.
(3) Invite At Place Where You Met First
Invite her to that place where you met each other for the first time. Remember or Recreate the same moment and then tell your feelings to her. It will definitely move her and get marked on her memory of lifetime. This is another best way to propose you girl of Dream.
(4) Propose On A Special Day
Valentine Day or Valentine Week is the best time to propose girl of your Dream because we all know the Valentine Day or Valentine Week are the week or Romance and Love. But to make your proposal more special and memorable propose her on a casual day. Just choose a day that has special meaning to both of you such as your Birthday, Her Birthday or when you went for your first date etc.
(5)  Invite For A Romantic Movie & Propose During Movie
The very romantic and easiest way to propose you're beloved. This way of proposing is tried and tested and it works, really. Just invite her for a Romantic Movie which pop up the special question and screen it during the interval. We do hope it should be fun to see her reaction.
(6) I Love You T-Shirt
Get a t-shirt with the text "Do You Love Me" or Will You Marry me" and wear a jacket or full sleeves shirt over it, take her to a nearby park or a place you usually meet up and get down on your knees and reveal your special tee to her. This is also one of the best and effective ideas to propose your Dream Girl.
Buy I Love You T-Shirt From Amazon
(7) Picnic At The Beach
This is the simple but more romantic way to propose your feelings. Invite her for a picnic at the sea beach. What better way to propose to the woman of your dreams is by sticking her engagement ring inside the chocolate covered strawberry? This romantic moment can be made more beautiful chocolates covered with strawberry, bucket of chilling champagne. You can stick ring with the chocolate wrapper and cover it with strawberry for proposing your dream girl for marriage. You can make this picnic even more beautiful by singing a romantic song for your Love with playing guitar or violin if you know.
(8) Propose On Radio
The girls love brave guys. Any girl would love the guy who propose her would have the guts to propose in front of thousands of people listening over the radio waves. If you know she listens to the radio at a certain time every day, making a dedication will work charms with her. Call your local FM radio station, one you know she will be tuning into. What would you say on the radio? That is clearly up to you. But it should be something memorable and sweet. Dedicate you beloved, her favorite romantic song. Have the radio play you and your "song," together, and a sweet proposal following before or after the song. Then have her phone in after the song to give her answer over the radio waves. She defiantly answer 'YES'
(9) Propose By Surprising
This one can be easy, but a lot of coordination is required to execute this proposal. Hiding yourself in a box wrapped with gift paper can be a big surprise to her when you are holding a ring in your hand and waiting to be unwrapped.
(10) Propose By Using "I Love You Banner"
If you can't express your feeling or you are afraid of rejection then you can use banner for proposing a girl. You can get a banner prepared with the word 'I Love You' and have it displayed outside her house or in the workplace. It is advised that you do not use her real name on the banner, but use the endearment that you generally use to call her. You can also make a flying banner and can give surprise to your loved one by flying it over her head and making it the most excited and memorable moment of your life. Try this way only when you are sure that she is not going to reject your proposal.
We do hope you will like these 10 most effective way to propose a girl. Give your effective way to propose a girl at loveguru@shayaripapers.com and we will publish your ways on our site Shayaripapers.Com.